Greetings All,
We successfully rolled out our new permissions system last week. This new capability expands upon our 'administrator | non administrator' functionality. For current administrators, you can now adjust platform section visibility for all of your users in the system, and also add unlimited 'non-consulting' users at no charge. This is useful for your Practice Managers, Reception, etc who won't be performing consultations, but will be co-ordinating consultations.
The new permission system is accessible within 'Admin Settings -> Employee Management'. For each employee in the system, you can adjust their role and section visibility. Example: If you want a specific user to have access to consultation services and the landing page section only, that can easily be set now as you can control visibility to each section of the platform per user.
Setting the Role for a Specific User:
Consulting User: Can perform consultations within the platform. Only accounts with this role enabled will be billed on a monthly basis.
Admin: Is typically the platform owner and has access to every section / feature within the platform.
Note: You do not need to set a role for a specific user if you don't want them having consultation capabilities or being an admin. Simply leave both boxes unchecked. Don't forget to click 'Save' if you're making any changes to the roles.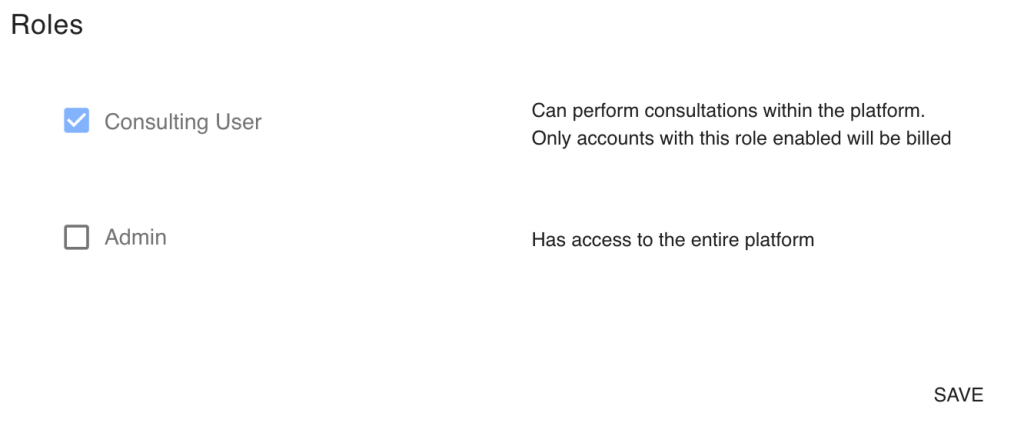 Setting Permissions For a Specific User:
You can set visibility for a user to specific sections of the site by checking the boxes associated to each area as shown below. You do not need to select a role in order to set permissions. Remember to click 'Save' if you're making any changes to permissions.