Brandable Telehealth Platform
for Veterinary Clinics
Your Platform, Your Staff, Your Clients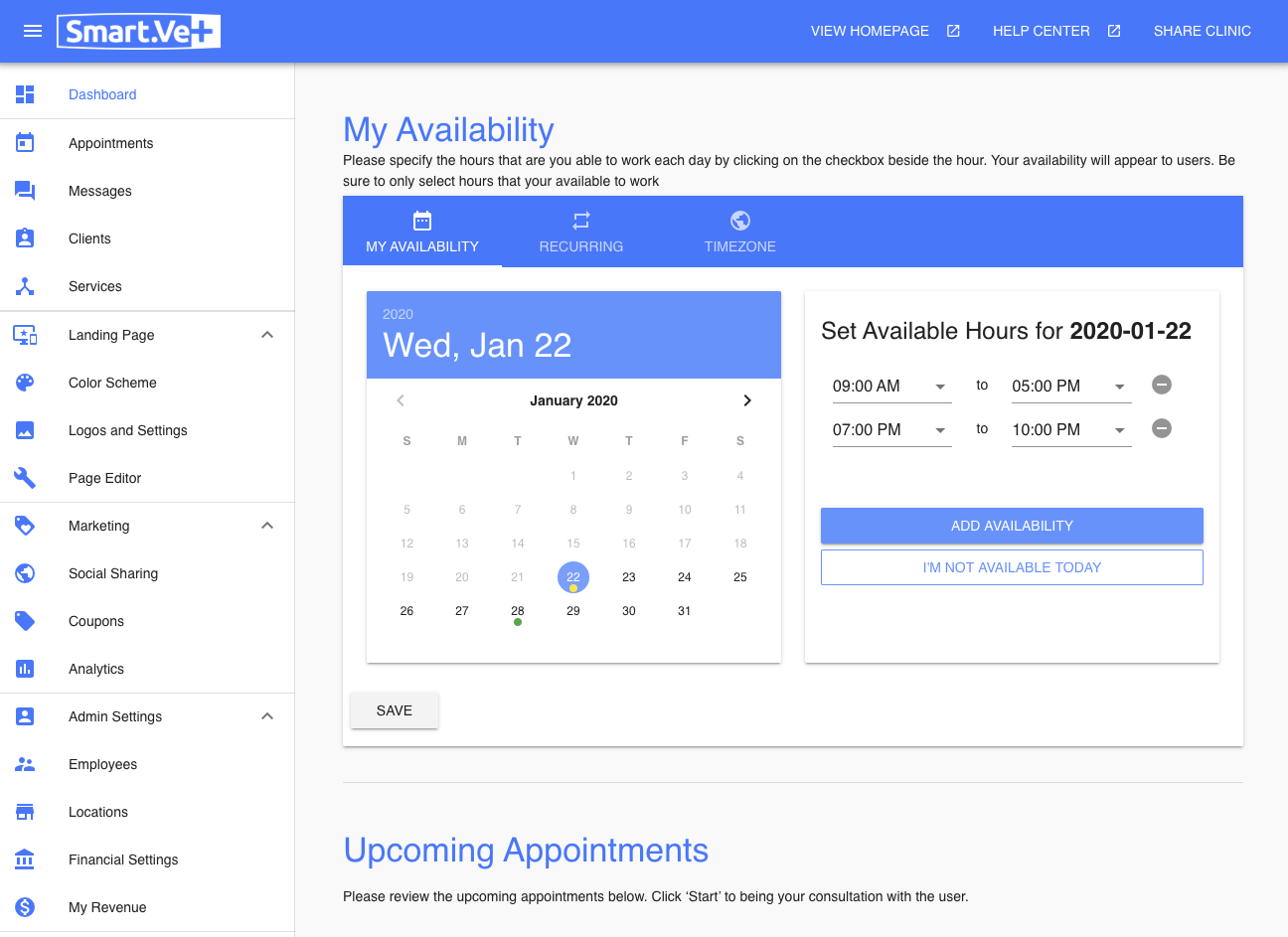 ---
Branded Platform
Our platform comes fully branded with your logo, colour scheme, and pictures to seamlessly integrate with your existing website.  On your home page, you simply create a new link called 'Telehealth' which sends your customers to your new Telehealth platform.
Scheduling
Our user friendly scheduling feature is for both veterinarians and pet owners.  As a vet, you can set the hours that your available for online consultations.  Your clients are able to see your availability, and book a time that works.  Don't worry, email notifications are immediately sent upon booking.
Communication System
The platform contains three different communication methods for your pet owners, Message, Phone, and Video.  All consultations occur in your digital consultation room.   You have the option to record consultations as well.
eCommerce
Whether you are answering a message, or performing a video consultation, you can charge for these.  You can set your own pricing, and the money is automatically deposited into your bank account upon completion of a consultation.   The system automatically generates receipts for clients and necessary tax documentation.
Employee Management
Do you have multiple vets working at your clinic? No problem!  You can easily add / manage team members within the platform, allowing them to also perform consultations and answer messages.
Client Record Management
Our platform does a great job at storing all client records, and their consultation history.   At any time, you can easily look up a client and review their consultation history.   Also, for returning clients, their consultation history is always visible to you in the consultation room!
Practice Management
Our platform is great for Practice Managers and Hospital Directors. Through our new administrative features, a Practice Manager can now view the calendar of all Veterinarians and RVTs within the Online Health Centre, and add / remove availability for the staff as required.
Recorded Consultations
Our platform has the ability to record phone and video consultations. This provides major benefit for both the pet owner and Veterinarian. Pet owners can always log back in to our Online Health centre and view past consultations. Veterinarians can easily download online consultation recordings and easily attach them into PIM software (Cornerstone, Avimark, etc).
Compliance
As our platform has been accredited by the CVO, our Video, Phone, and Message consultations are deemed 'legal' consultations. If you have a VCPR with a patient, you can upload prescriptions within the digital consultation room. From a security perspective, our system was designed in AWS HIPPA compliant infrastructure with all data hosted in Montreal, we include end-to-end encryption and future cryptography
---
Enable Your Clinic
with Telehealth Capabilities
Launch your own telehealth platform that plugs directly into your existing website, or use the platform as your clinic's main website.
We assist with setup (which can be same day) and provide training (it's extremely easy to use).   This is the same technology Smart.Vet is running on and has been accredited by the CVO.
---
Deliver Online Pet Care
Our platform will allow your clinic to deliver online pet care, thereby improving access to services for your clients and promoting better healthcare outcomes. Pet telehealth is gaining popularity amongst pet owners and we can deliver now.
Reach New Clients
Our platform will enable your clinic to reach clients in remote areas where you don't have a physical location, in addition to supporting rural communities where there are limited or no veterinarian providers today.
New Revenue Stream
By delivering online pet care, your clinic now has a new revenue generation stream at a minimal cost.  You can set your own online services and pricing.  Most clinics showcase ROI after performing only 2-3 consultations per month.
Follow-up Appointments
The platform is extremely valuable for performing follow-up appointments with your clients.   If it's a quick follow-up to a surgery or recent issue, have your client schedule, attend, and pay for the consultation all within the platform.
---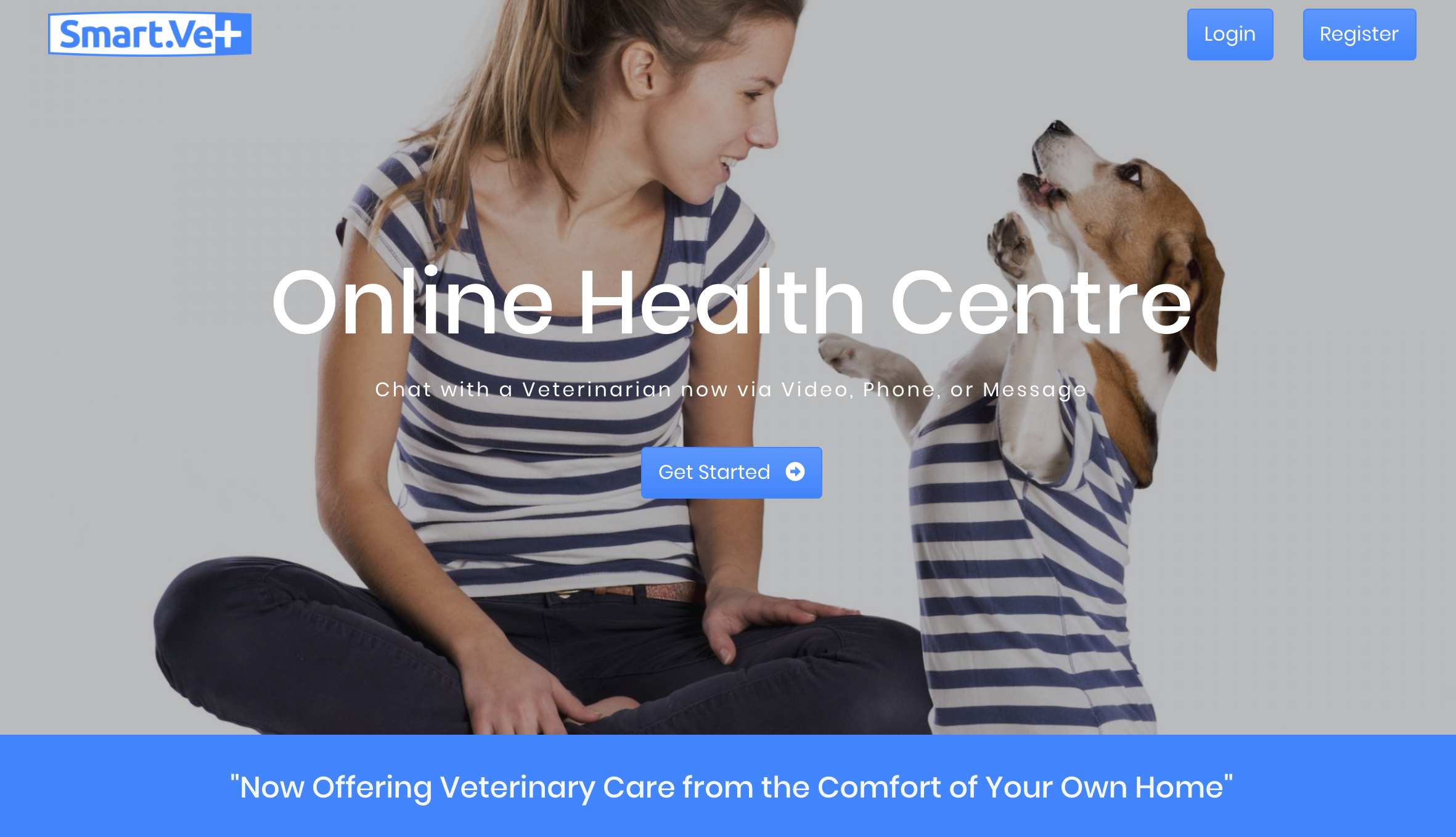 Branded Platform
Our cloud based platform is extremely easy to integrate with your current website. Our platform comes equipped with tele-health landing page that you can completely customize with your colors, logo, pictures, and content. This landing page drives both pet owners and vet staff to your branded portal, where online scheduling and consultations occur.
Online Scheduling
With our scheduling feature, your staff is able to set their availability within the platform, and clients can easily book a time with a vet based on set availability. This feature brings online scheduling to your clinic for both online consultations (video and phone) and in-clinic consultations/p>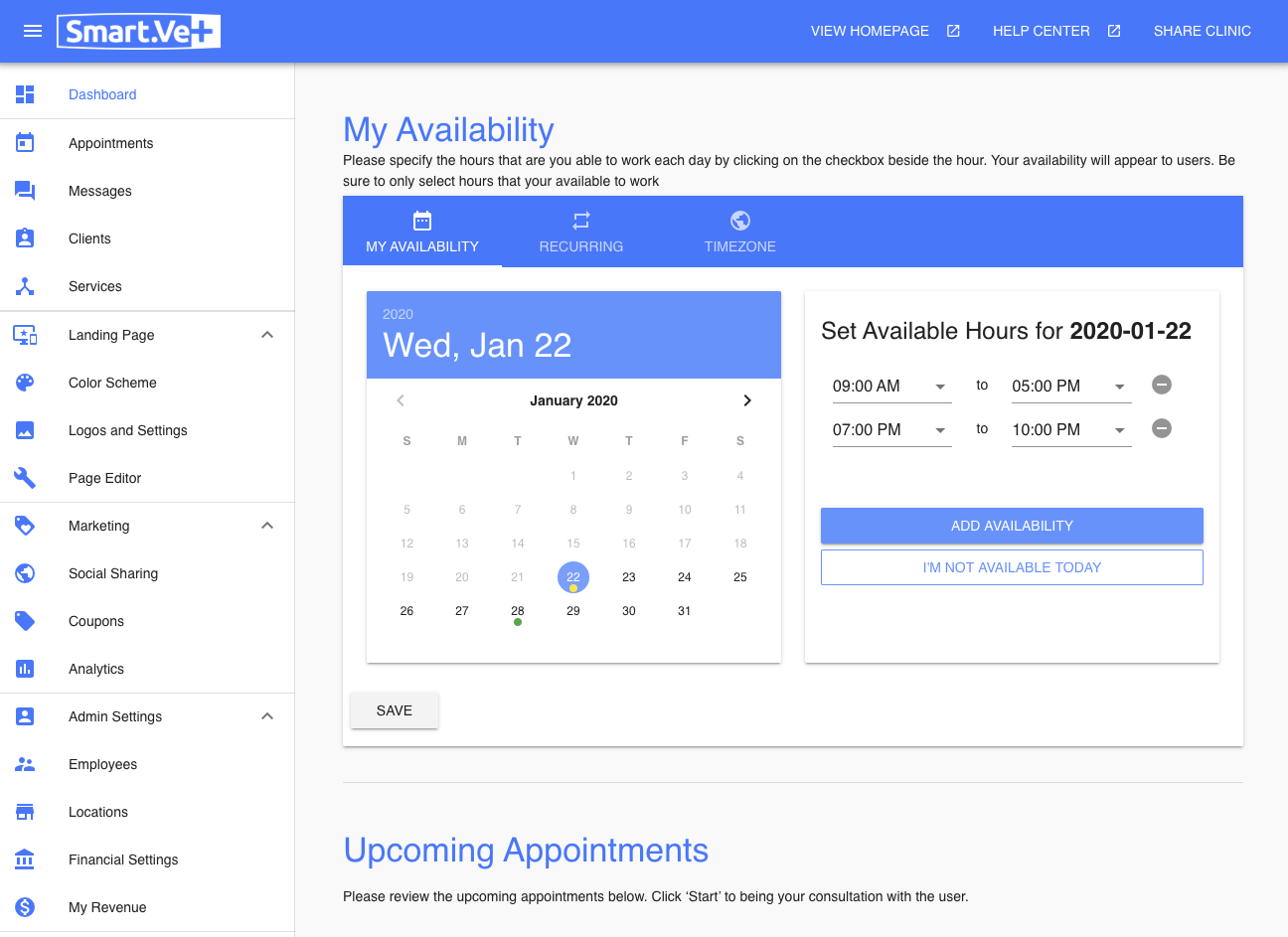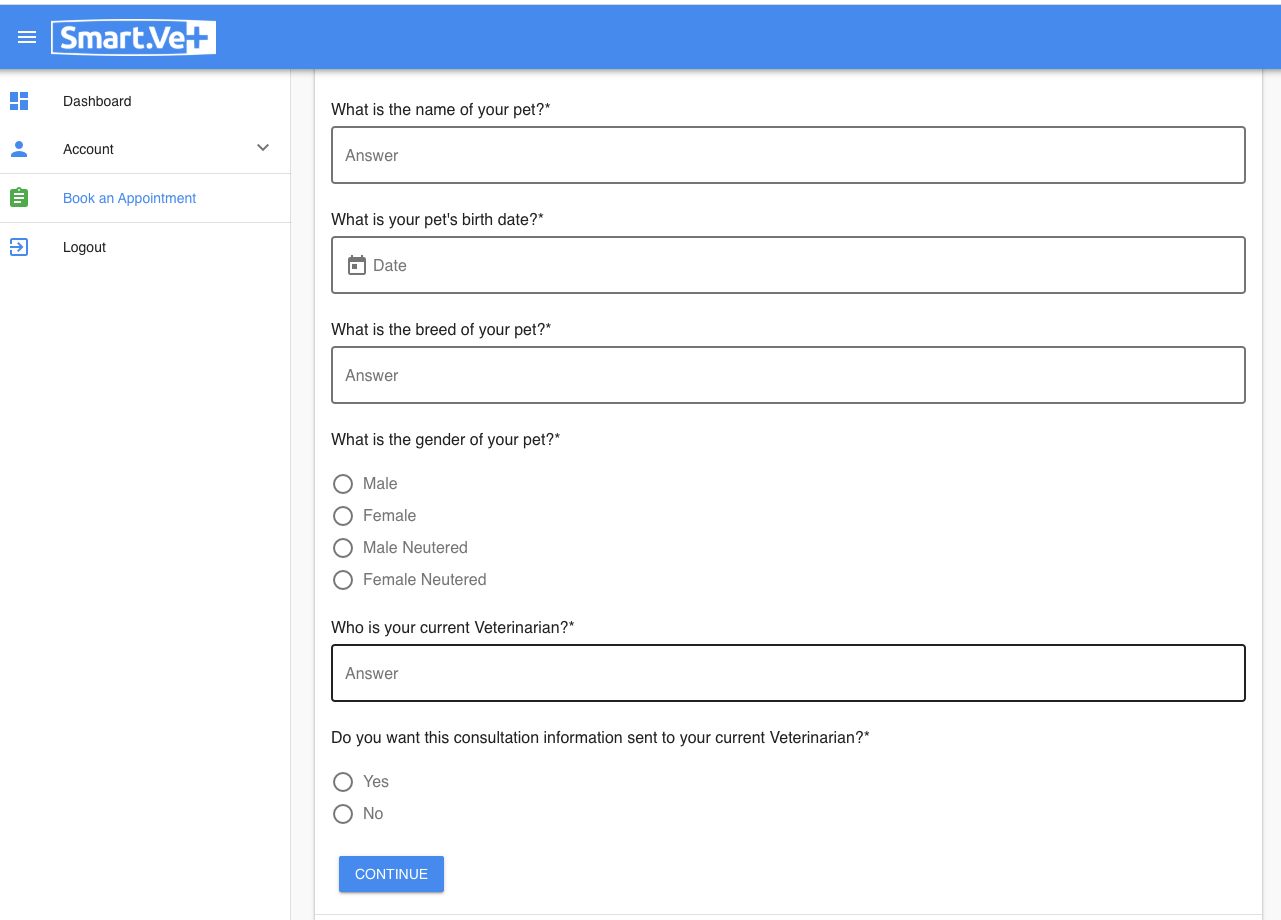 Custom Intake Forms
With our custom intake forms, you can create questions that your pet owners must answer before being able to book an online consultation with you. You can ask questions relating to breed, age, diet, specific issues, etc. All intake form answers are stored on the client file and visible within the digital consultation room
Digital Consultation Room
Our digital consultation room is where the pet owner and veterinarian are connected. In this room, a vet is able to see everything about the pet owner before beginning the consultation, including pet history, intake form questions, and pictures and images attached form the pet owner. To begin the consultation with the pet owner, the veterinarian simply presses 'Start Consultation'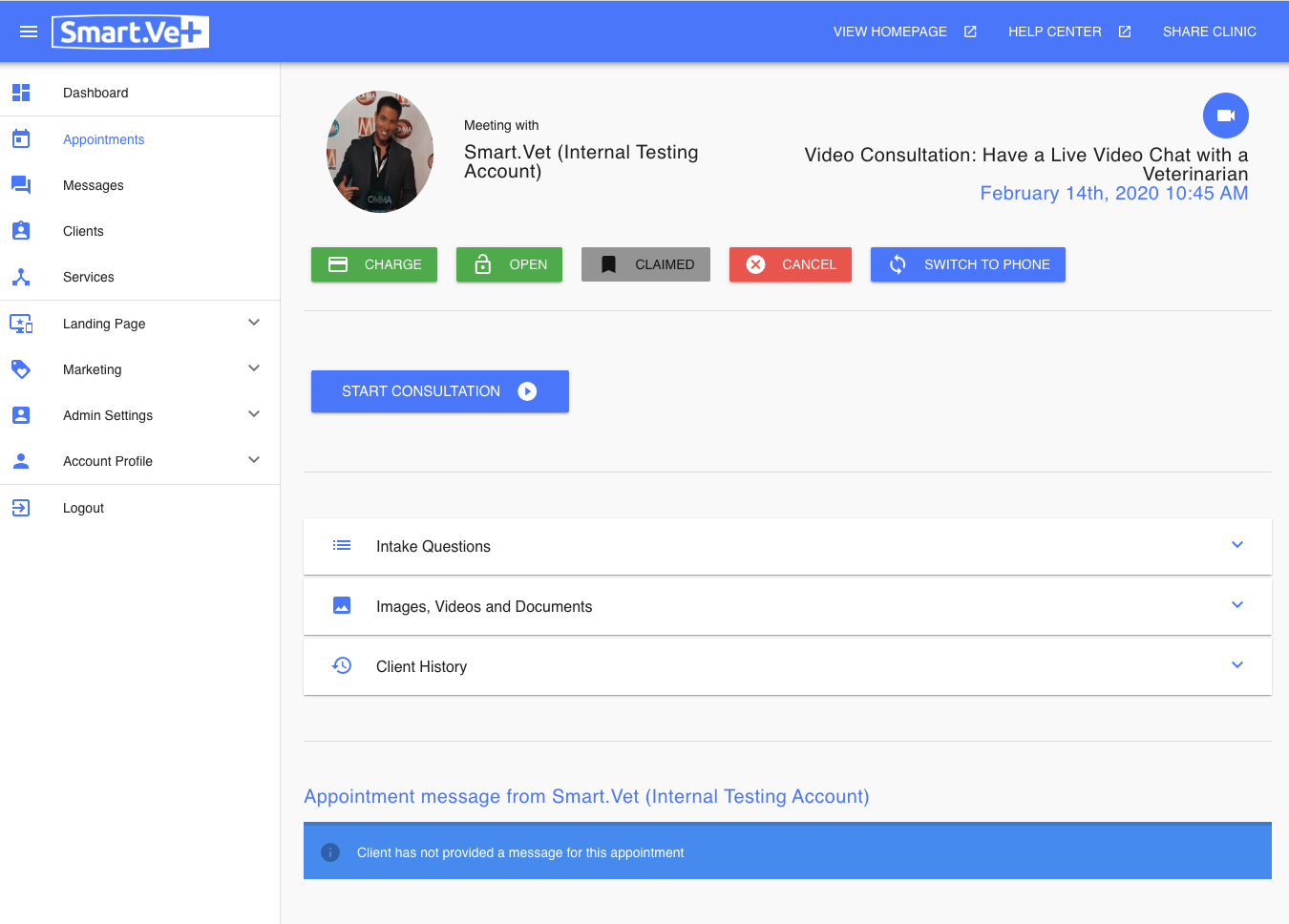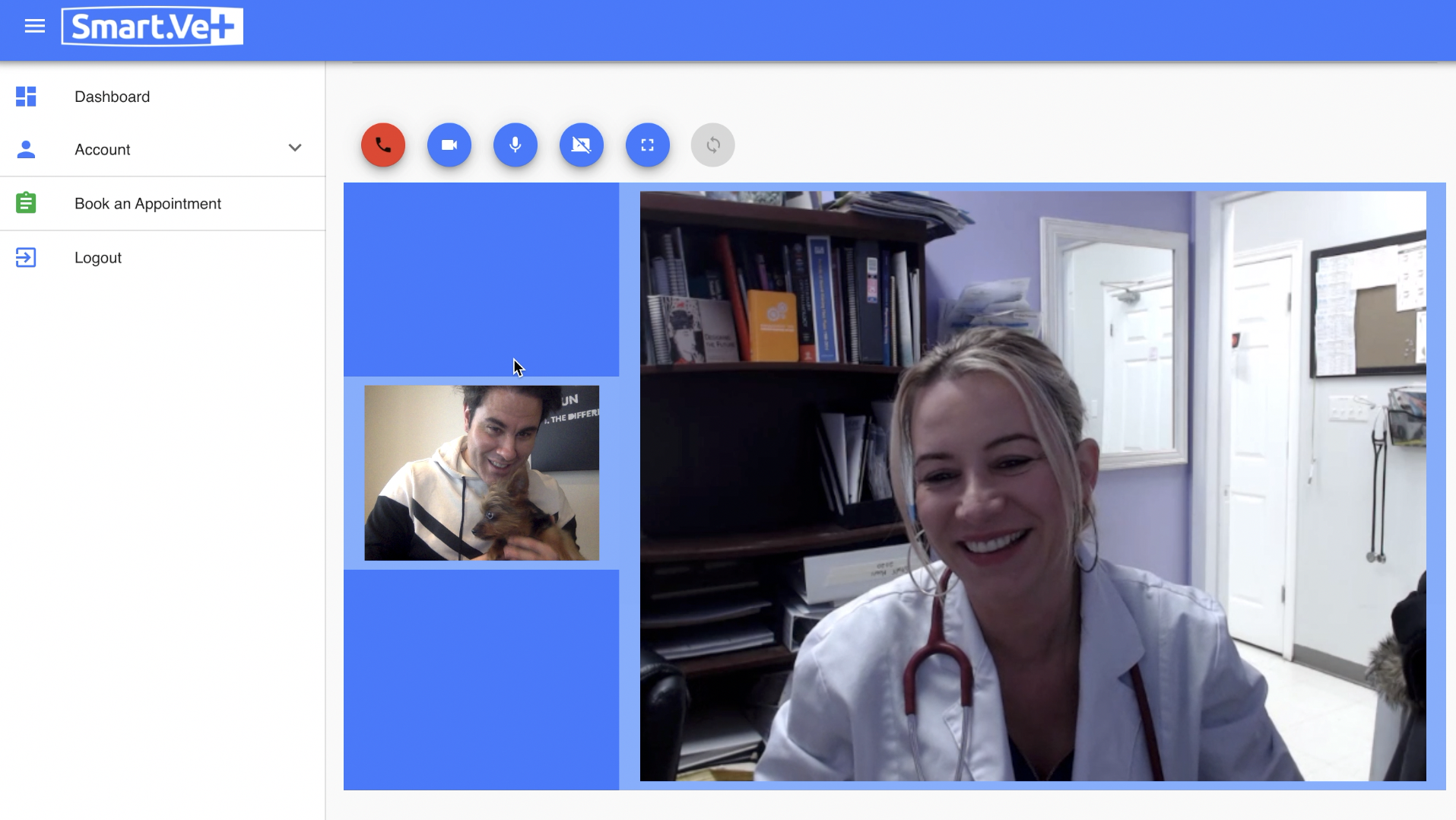 Online Communication
The online communication feature is where our platform shines. A vet can meet with a patient via video, phone, or message. A pet owner can select the communication mechanism they prefer during the scheduling sequence. Both video and phone consultations can be recorded if the veterinarian chooses to enable the feature.
eCommerce
Our built-in ecommerce engine allows you to charge for their consultations. If you are charging consultations, the pet owner is prompted to enter their credit card information into the system via the scheduling sequence. After the consultation is completed, the money is automatically charged to the bank account you've setup The system generates receipts for you and the pet owners automatically. You don't have to charge for consultations, and if you're not, the pet owners are not prompted for payment during the scheduling sequence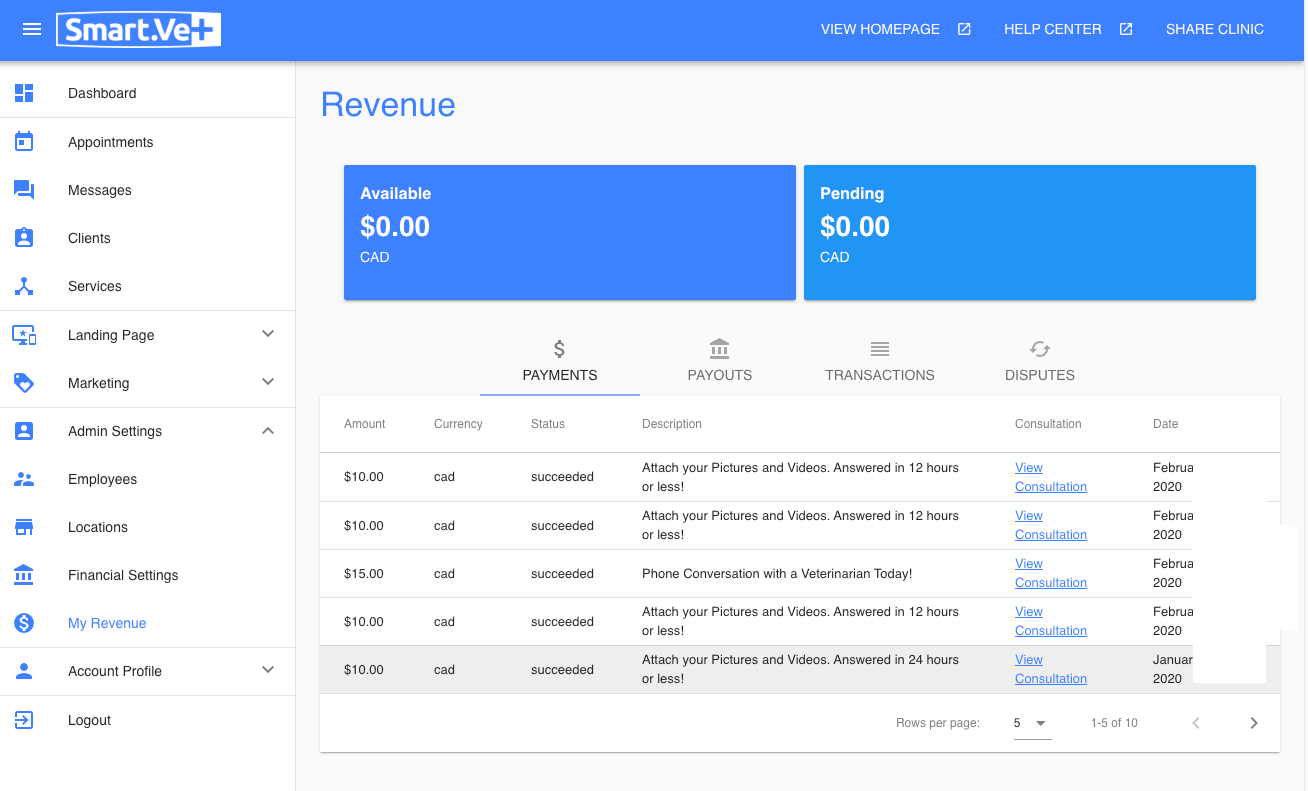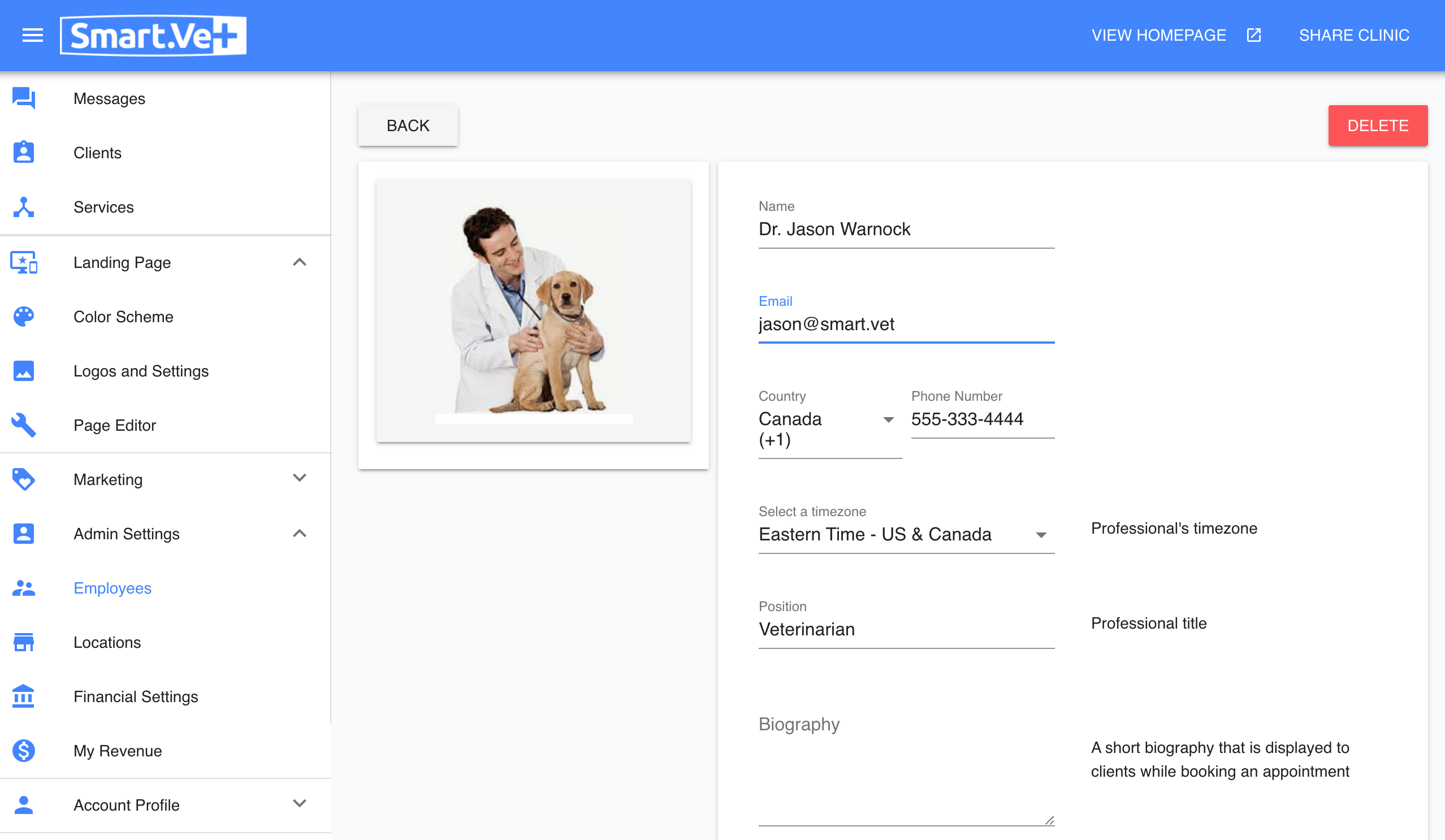 Employee Management
Adding new clinic staff members is easy. The platform contains an employee management section that allows you to add / remove team members, and control accessibility permissions within the platform. Multiple staff members can work in the platform at the same time.
Practice Manager Features
If you're a larger clinic and have a Practice Manager, our administration features allow Practice Managers to view / modify the online schedules of all Veterinarians within the platform, otherwise known as 'Traffic Control. We will also be rolling out the ability for a Practice Manager to schedule an Online Consultation on behalf of a Veterinarian with a patient.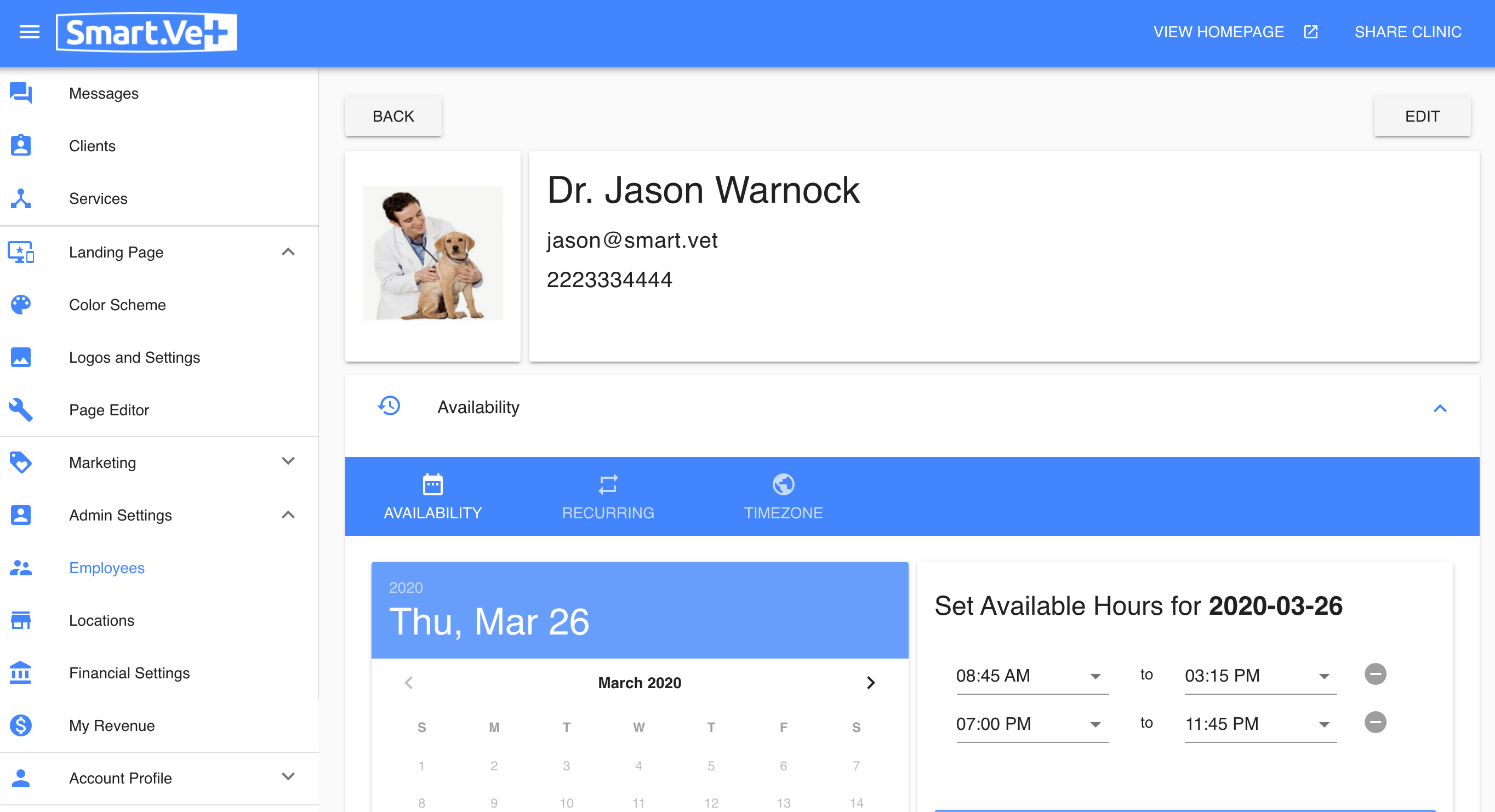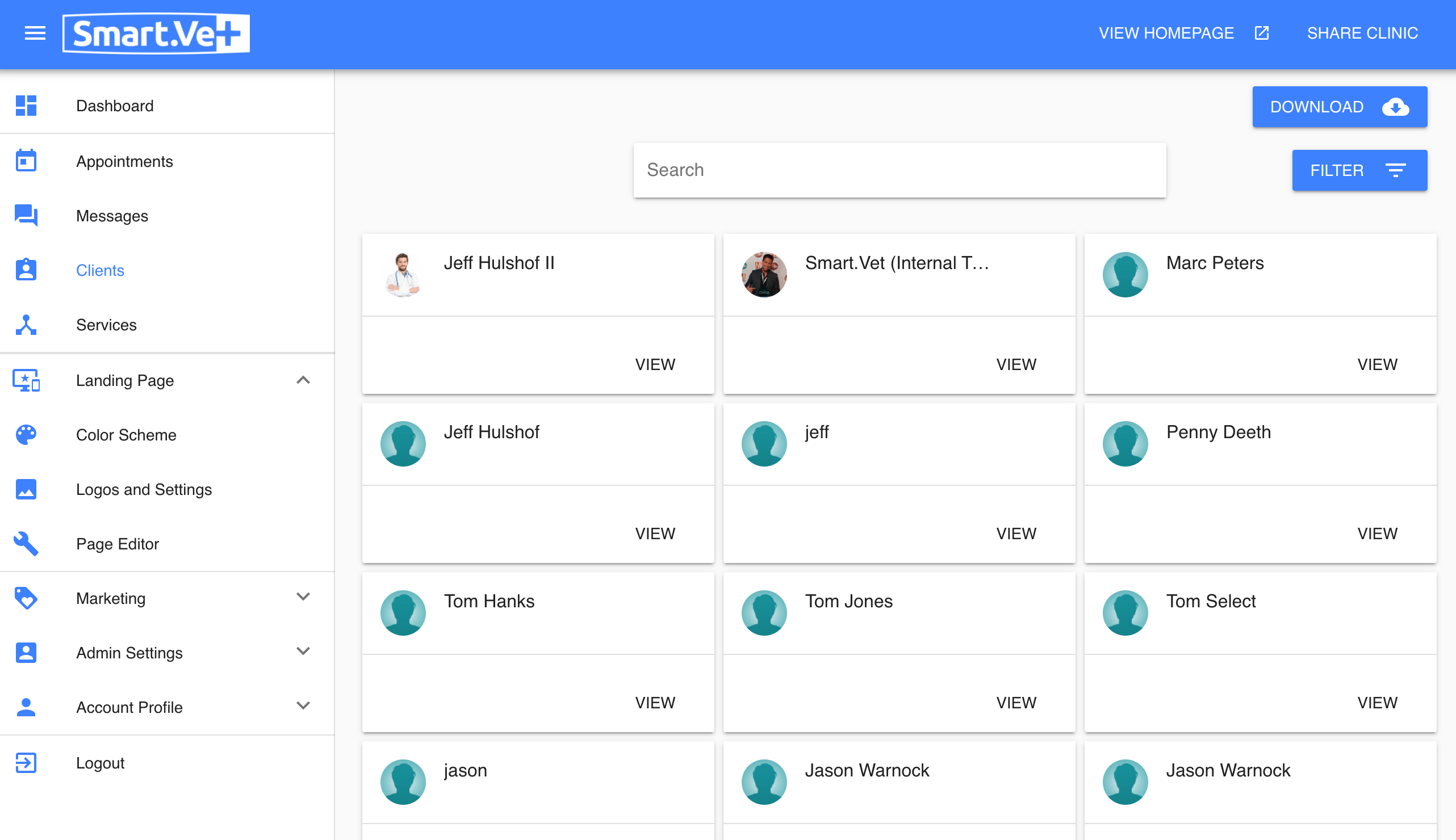 Client Record Management
When a pet owner logs into your platform, their information and consultation history are automatically stored within the client profile. You can easily view a pet owner record at any time. Also, a pet owner's consultation history is presented with their appointment in the consultation view.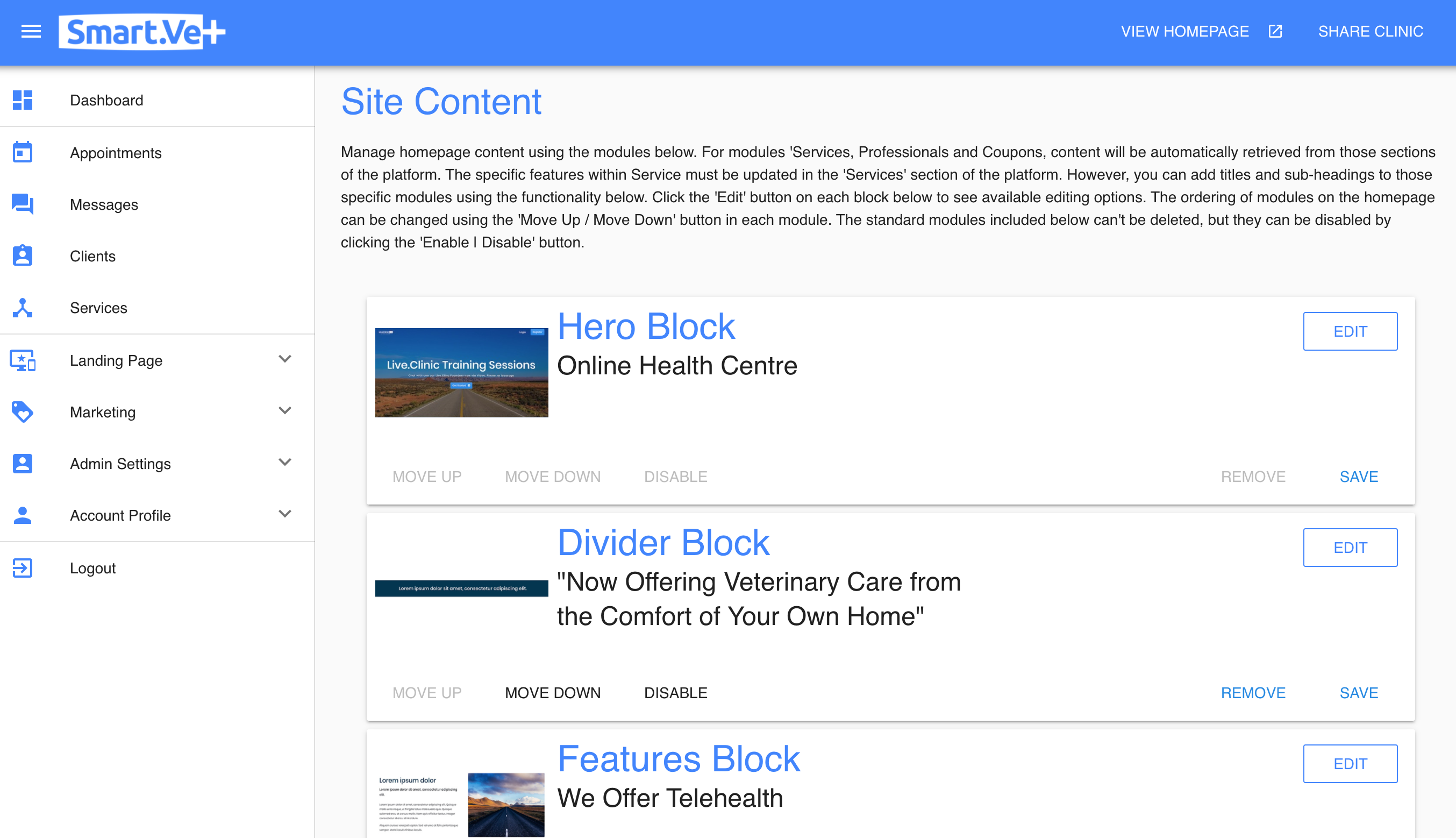 Landing Page Editor
You can keep your Online Health Centre landing page up to date with all of your telehealth capabilities and services. We've build the easiest web-page builder within the platform. With dozens of pre-made design blocks to choose from and an easy-to-use interface, you won't need to rely on your website provider to make updates!
---
Implementation Example
Check out our Partners page for a list of all implementations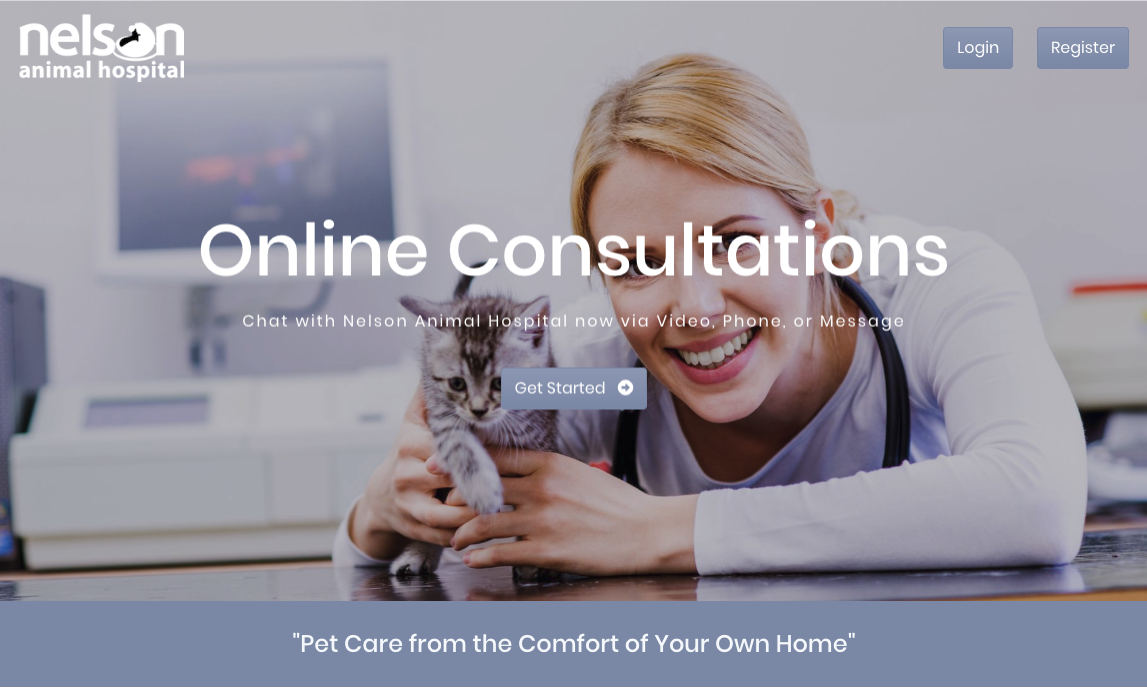 Nelson Animal Hospital
Nelson Animal Hospital implemented Smart.Vet within their practice. This now allows Nelson to perform online consultations with their clients. The implementation was easy, Nelson setup a Smart.Vet platform and created a link on their main website called 'Online Consultations' that links pet owners to Nelson's online consultation platform. The online platform has the same branding as Nelson's main website, ensuring a branded experience.
---
Veterinarians Wanted
We're always looking for talented and passionate Veterinarians to join Smart.Vet.  With over 500 clients, we are seeking licensed Veterinarians to support online consultations that come in through Smart.Vet.  Work when you want to work.  With Smart.Vet, we page all vets in our network when a consultation comes in and give them option of taking the consultation!
Now taking applications for 2020