Brandable Telehealth Platform
for Veterinary Clinics
Your Platform, Your Brand, Your Staff, Your Clients
New Partnership Promotion
Merck Animal Health and Royal Canin are covering 50% of your base subscription cost for 2 months!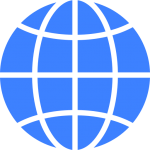 Branded Telehealth Platform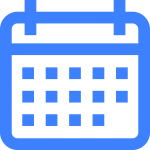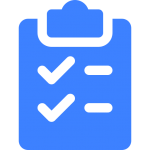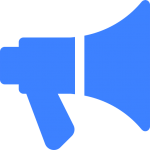 Telehealth Communications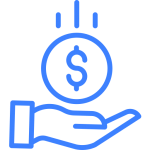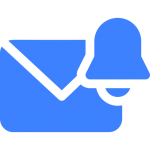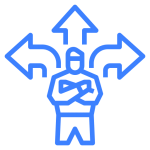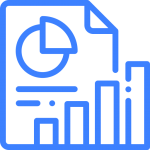 ---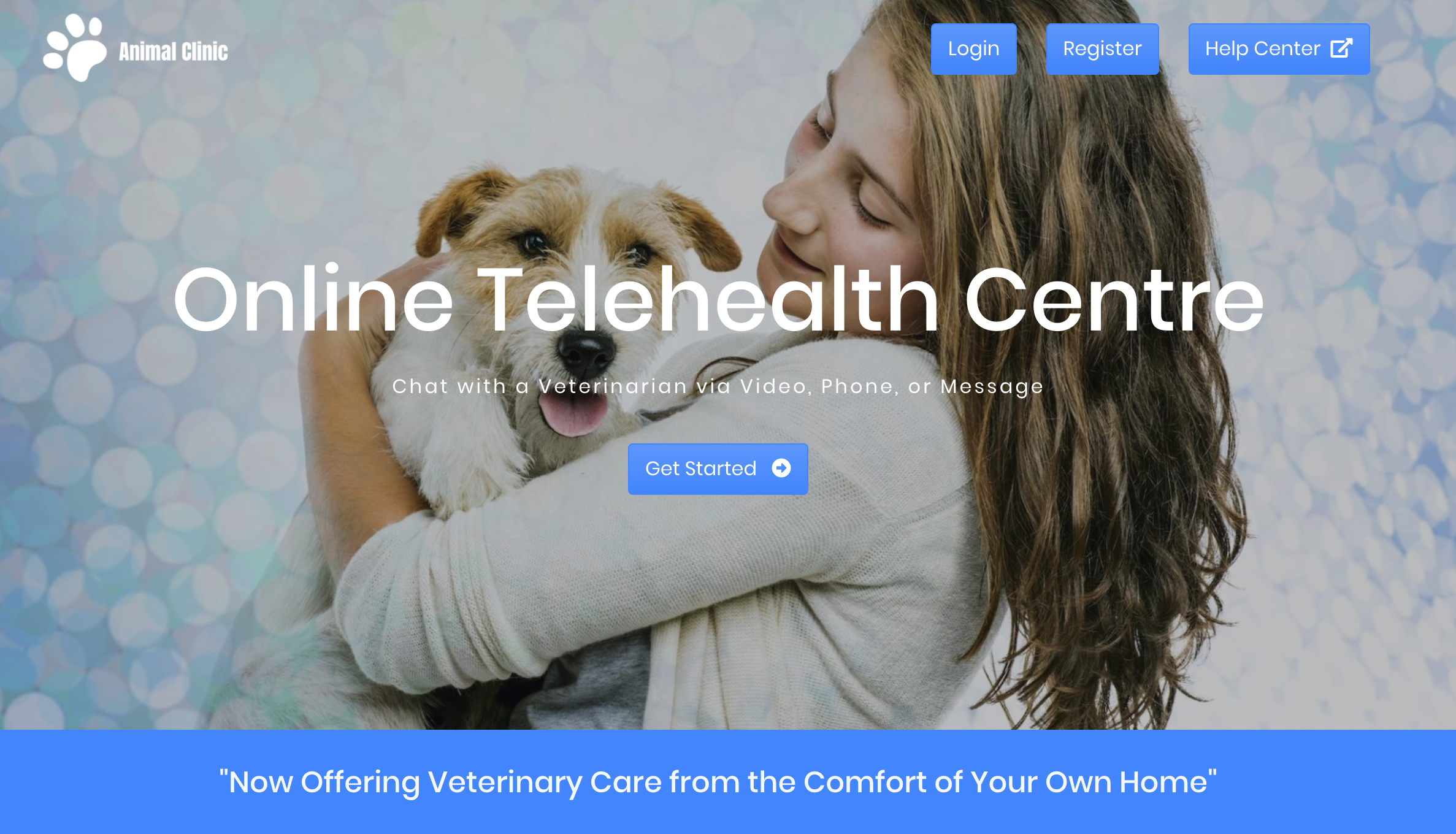 We generate a branded telehealth platform for your clinic
We generate a fully setup web-based telehealth platform for your clinic. The platform works on all devices PCs, Tablets, and Smartphones, no downloads needed by your staff or clients. It contains your logo and matches the branding you have on your clinic's website. Our platform comes equipped with tele-health landing page that you can completely customize with your colors, logo, pictures, and content.
You place a link to your new telehealth platform on your clinic's website
Our cloud based platform is extremely easy to integrate with your current clinic website. Just place a link on your main website that says 'Telehealth' or 'Online Consultations' and link it to your new telehealth platform.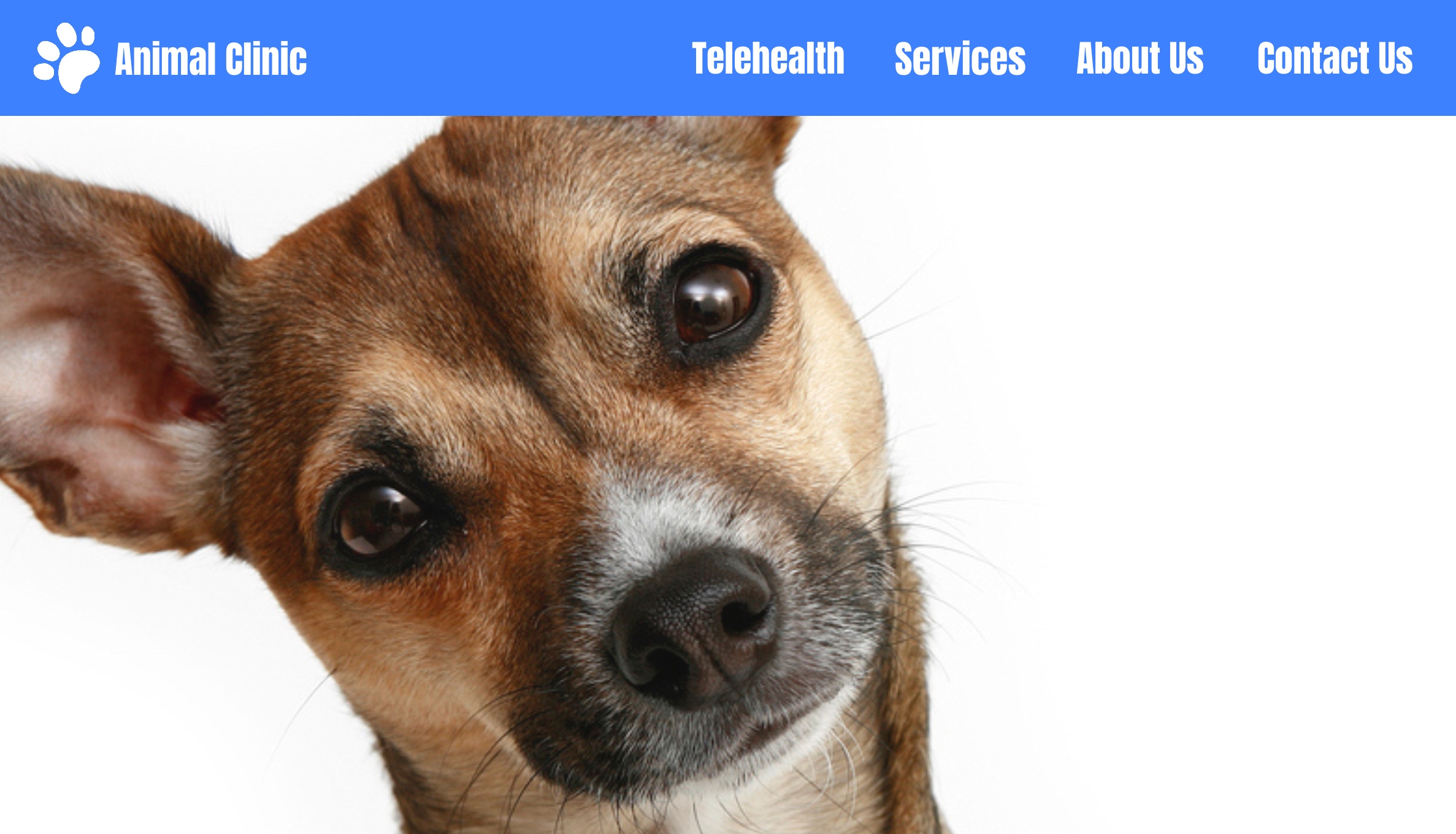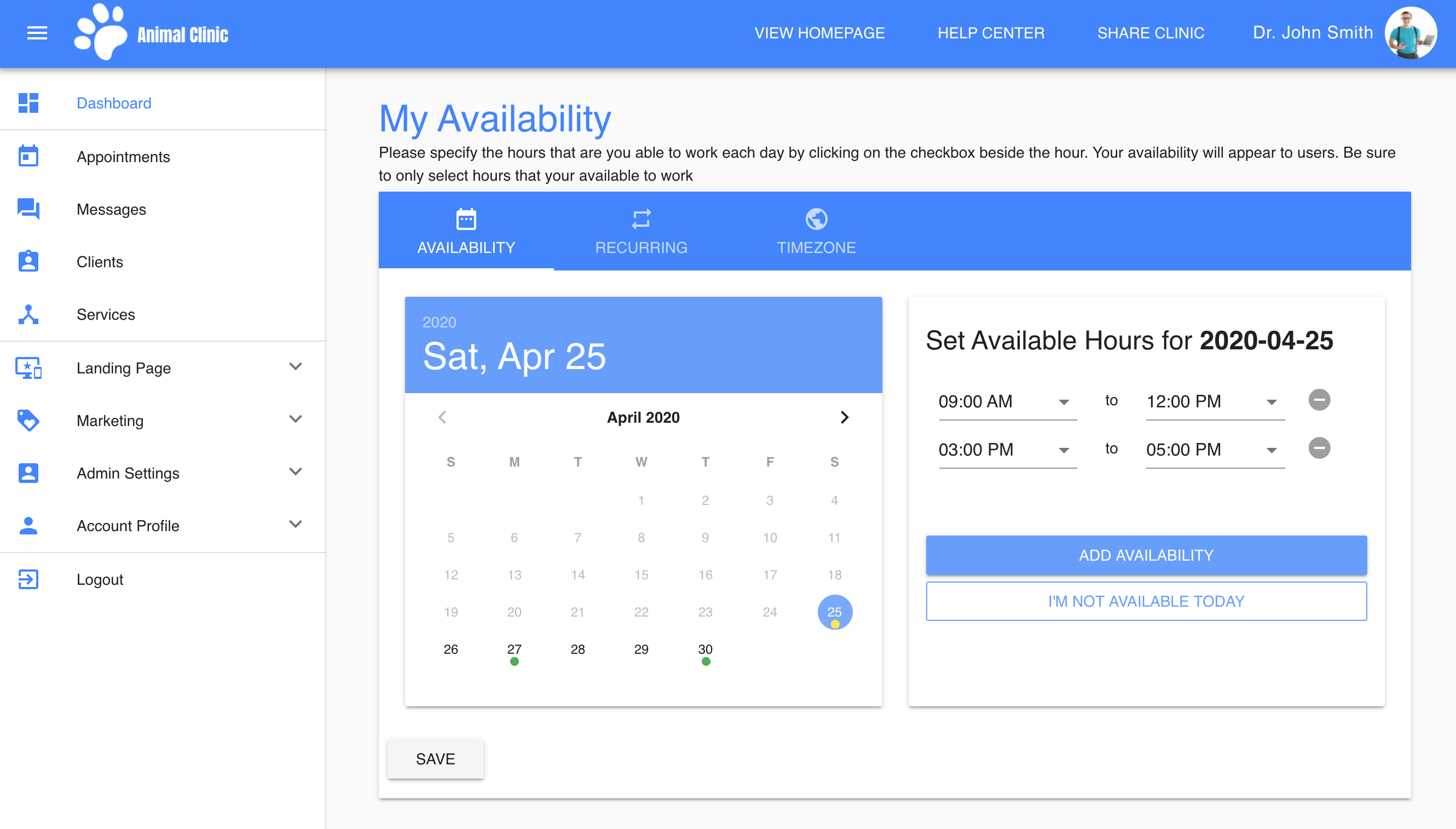 Set your pricing, intake form questions, and availability
Now in order to perform telehealth consultations you simply need to set the pricing on the telehealth services that you offer (message, phone, and video), add any optional client intake forms to these individual services, and then set your availability. This availability is visible to your clients so they can book consultations with you
Your clients sign-up / login to your new telehealth platform
When your clients arrive on your new telehealth platform landing page, they can register and login to your platform. Your new client portal will allow clients to book a telehealth consultation with your staff. Also, past consultations are viewable to the client in the portal.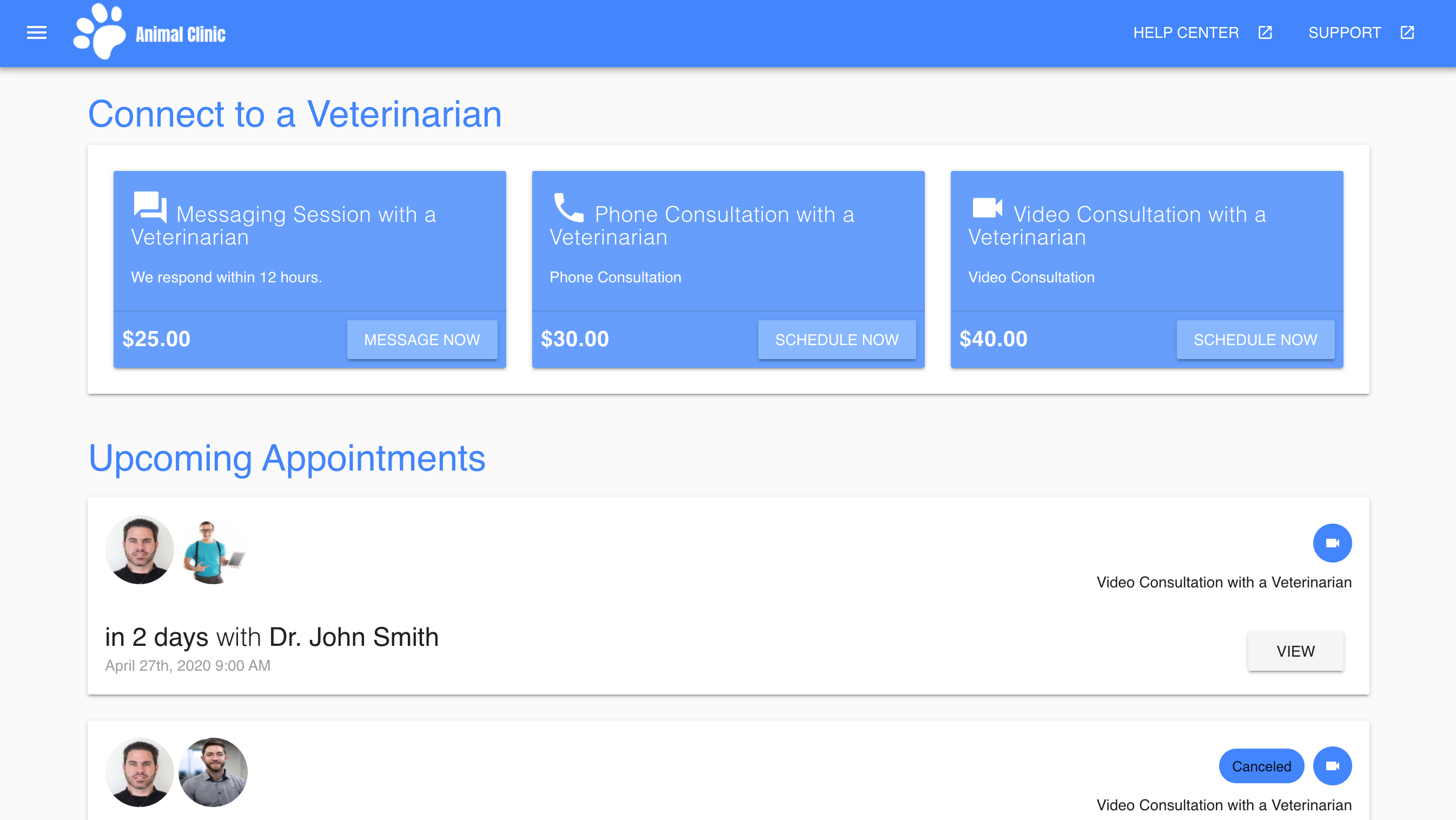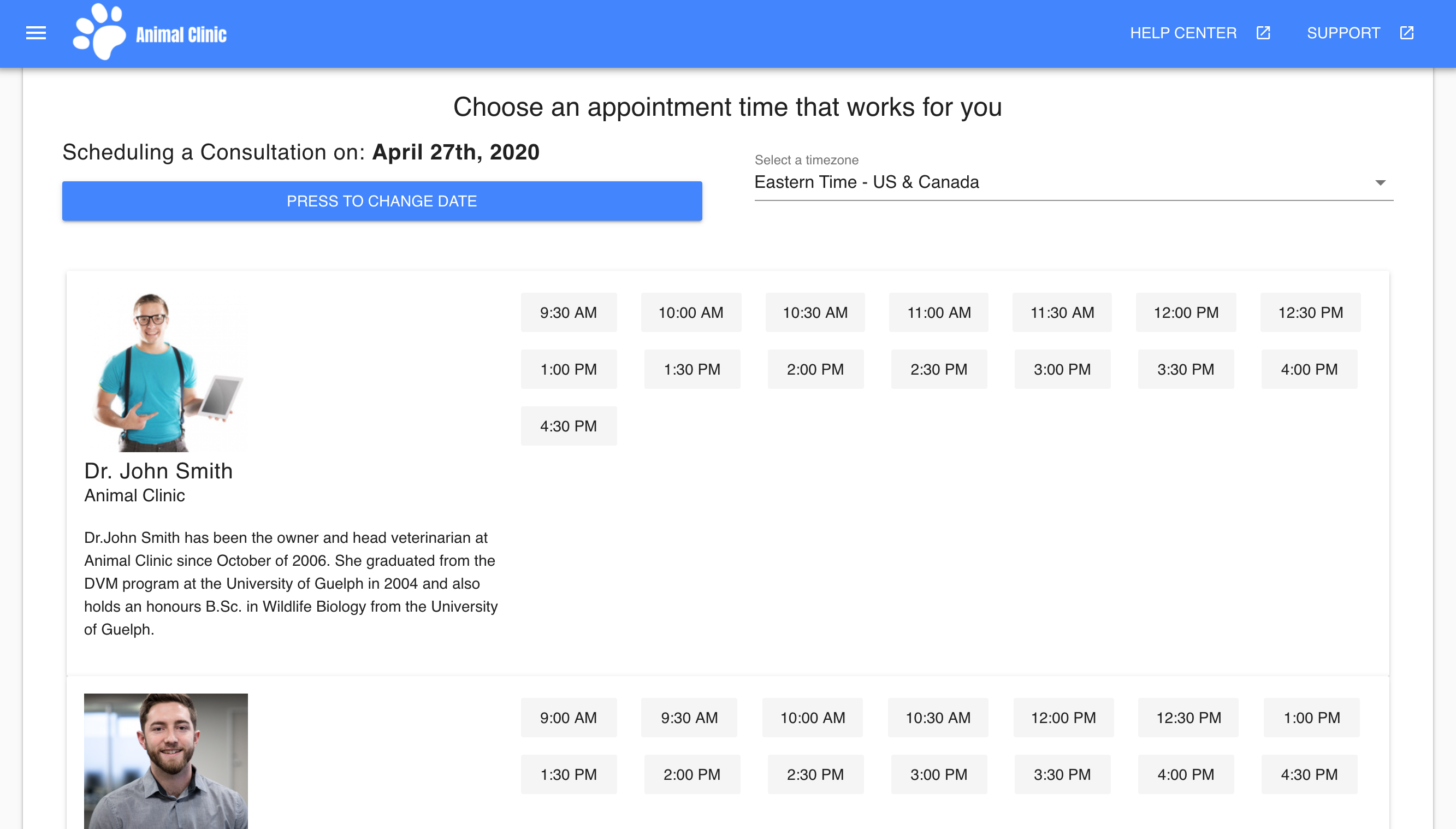 Your clients schedule a time for a telehealth consultation or send a message
Your clients simply click 'Schedule Now' or 'Message Now' from the dashboard in the client portal. If the client is scheduling a phone/video consultation, they are brought to the scheduling screen where they will select an available time slot, complete intake questions, and pay for the consultation via credit card before they are able to access the consultation room.
Meet with your client at the scheduled time in the secure digital consultation room.
Our digital consultation room is where the pet owner and veterinarian are connected. In this room, a vet is able to see everything about the pet owner before beginning the consultation, including pet history, intake form questions, and pictures and images attached form the pet owner. To begin the consultation with the pet owner, the veterinarian simply presses 'Start Consultation'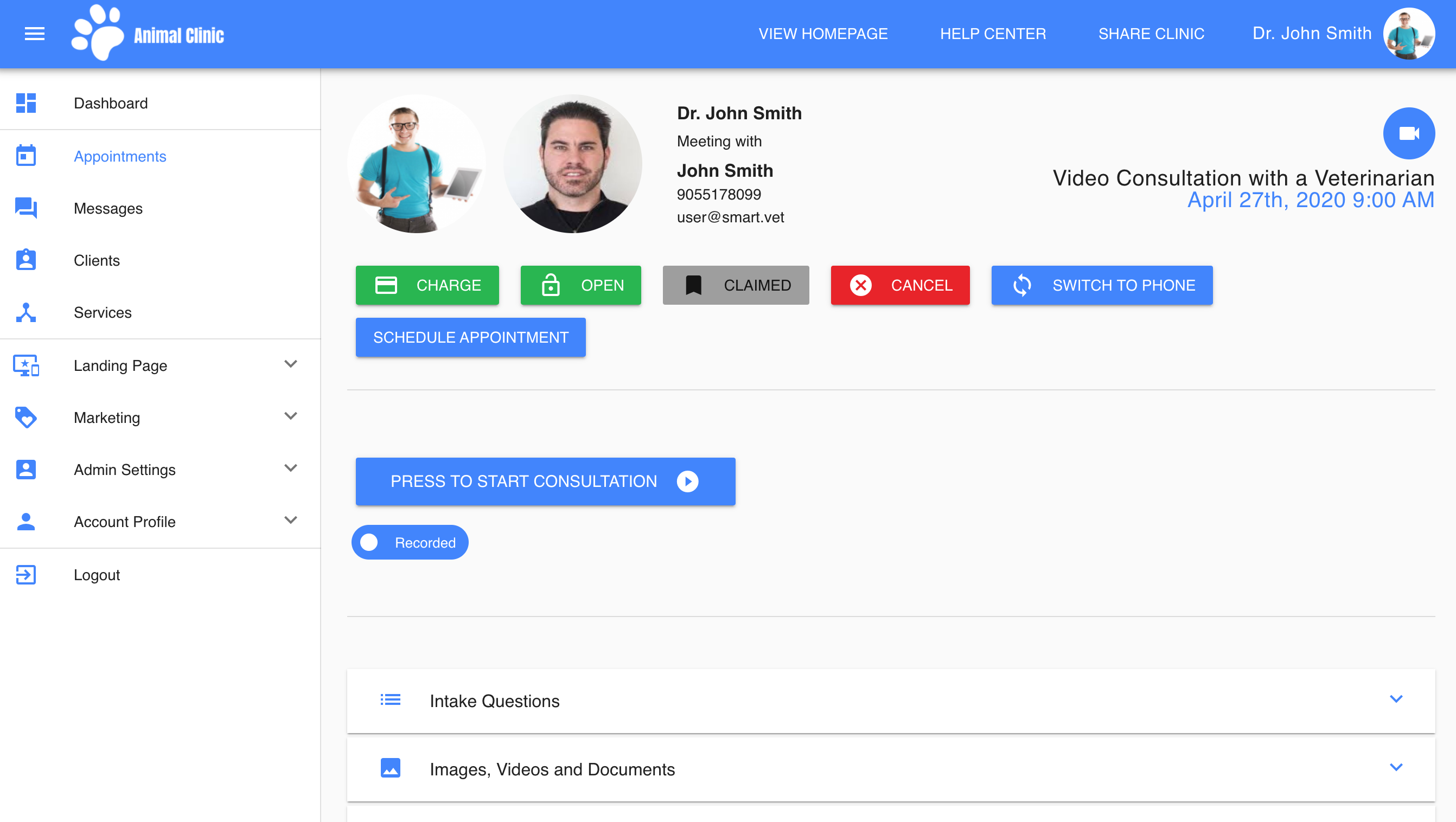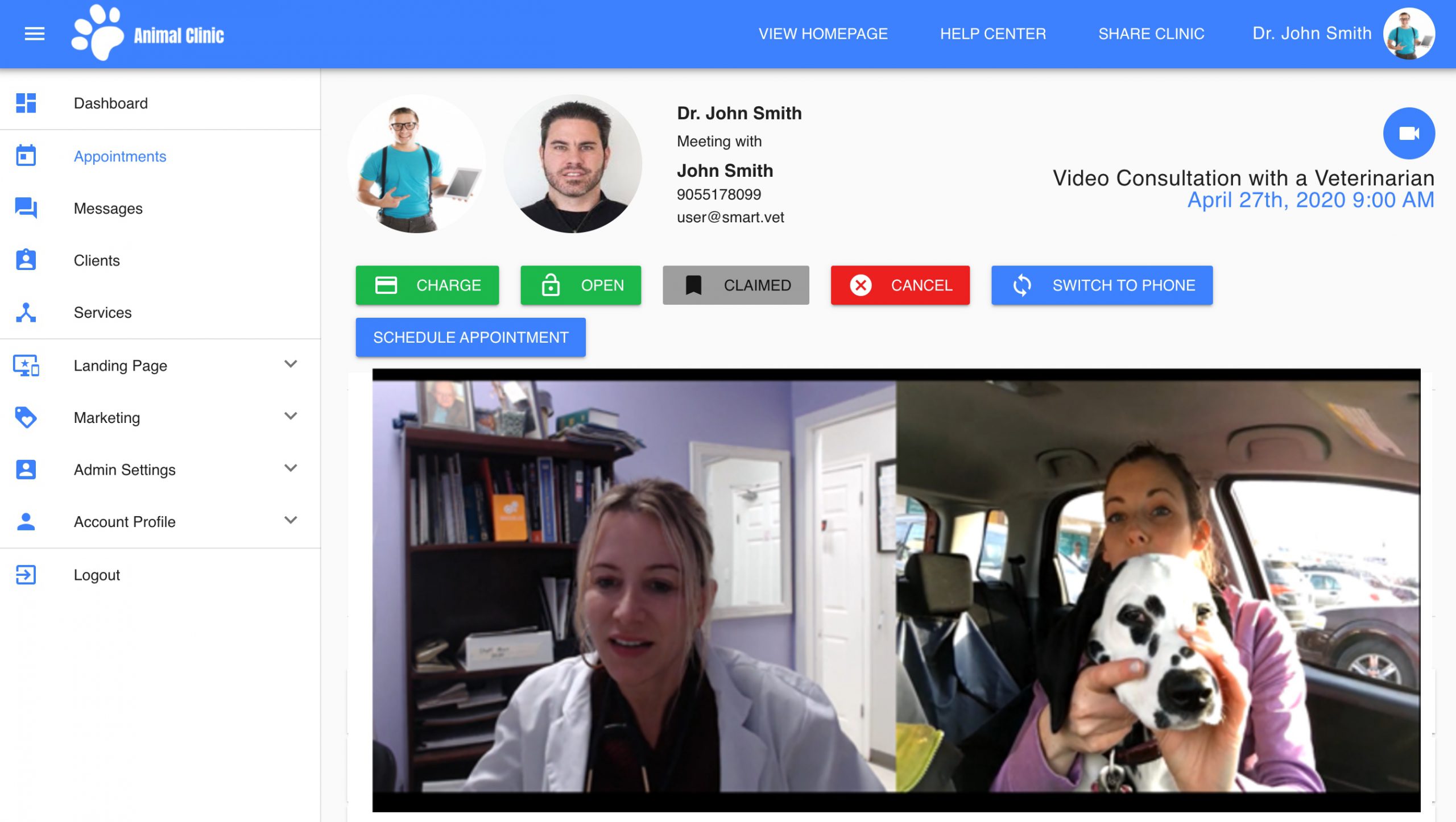 Video Consultations
Our video consultation feature is a highlight of our telehealth platform. A Veterinarian can have a high-definition video call with a pet owner! Both parties can also screenshare at the same time during the session. The session can be recorded and is available for download by both the Veterinarian and Pet Owner.
Phone Consultations
Our phone consultation option is perfect for pet owners not comfortable or equipped to do a video call. Once the Veterinarian clicks 'Start Phone Call', the system will automatically call the Veterinarian and Pet-owner, and bridge them together, no dialing needed. The Veterinarian's phone number is always kept private. Phone consultations can also be recorded.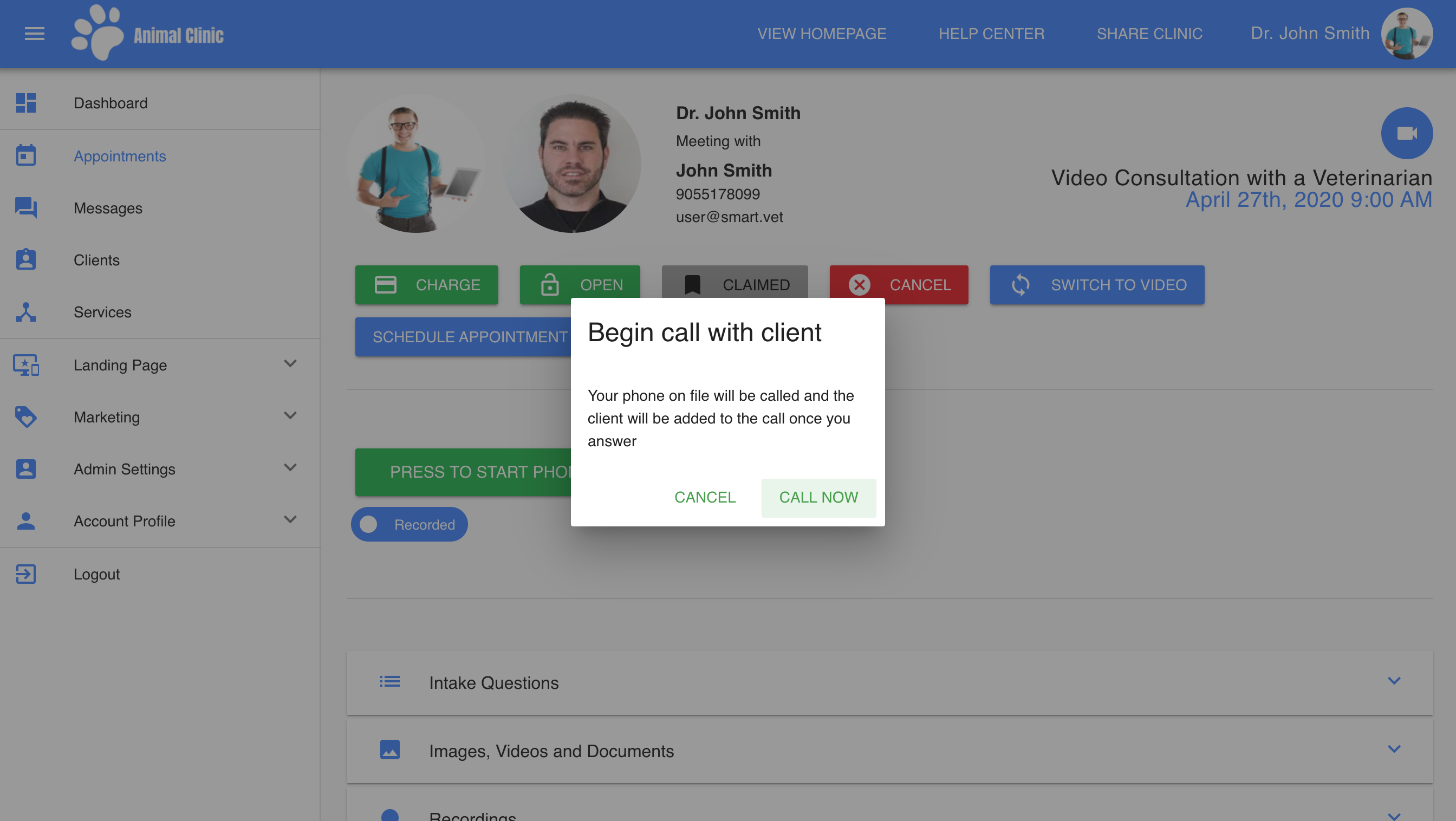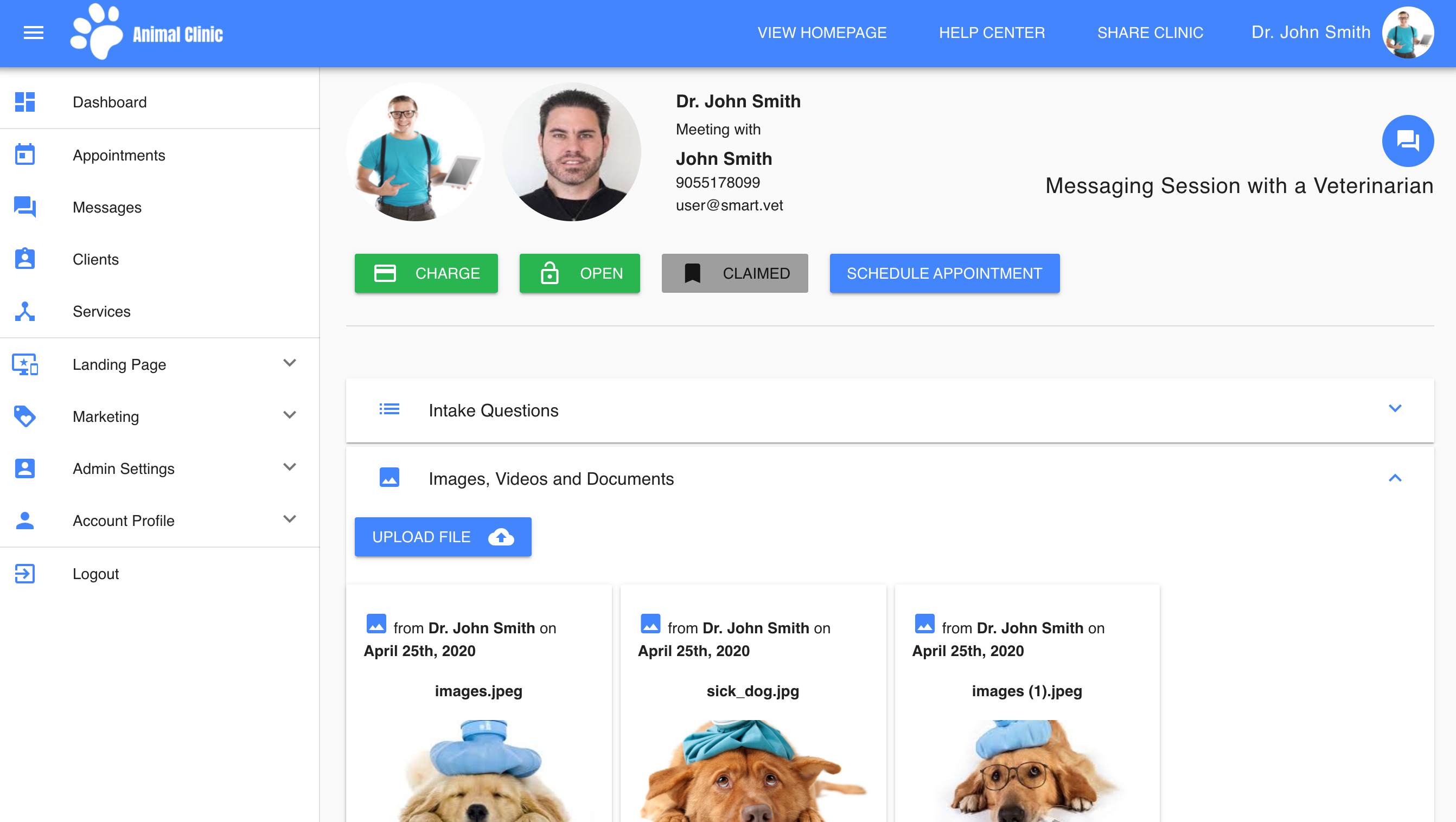 Message Consultations
For less urgent concerns, we included the Message Consultation. Pet Owners are able to send your clinic a paid message about their pet concern that includes Videos, Images, and documentation that further describes the reason for their visit
Schedule Follow-up Telehealth Consultations
With our outbound scheduling feature, Veterinarians, RVTs, and Practice Managers are able to schedule telehealth consultations (Video | Phone) with pet owners. It's easy, a user simply specifies the consultation type, selects the staff member that will perform the consultation, the date / time and it's done. The pet owner receives an email notification of the appointment, and has to pay for the consultation before joining.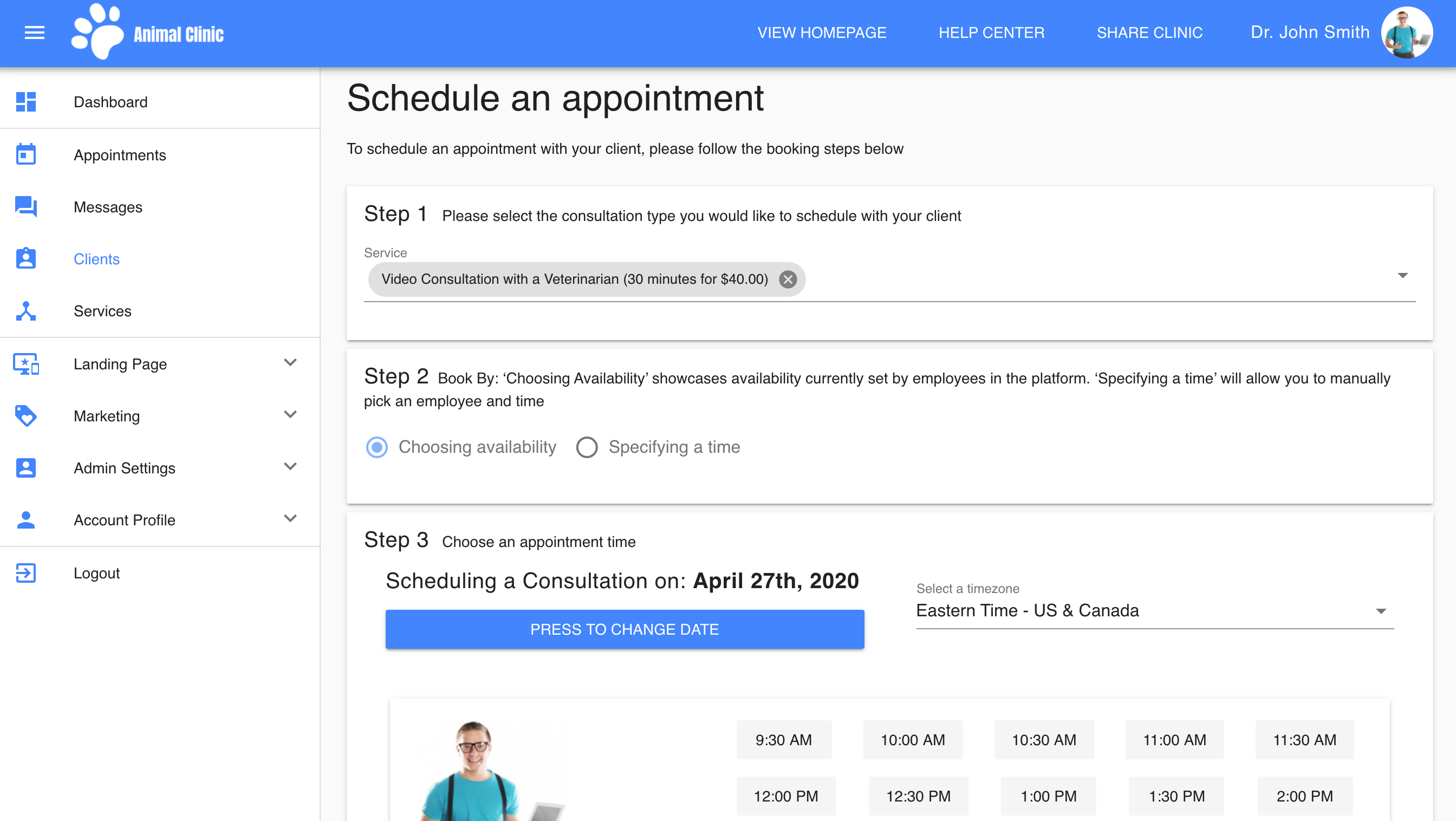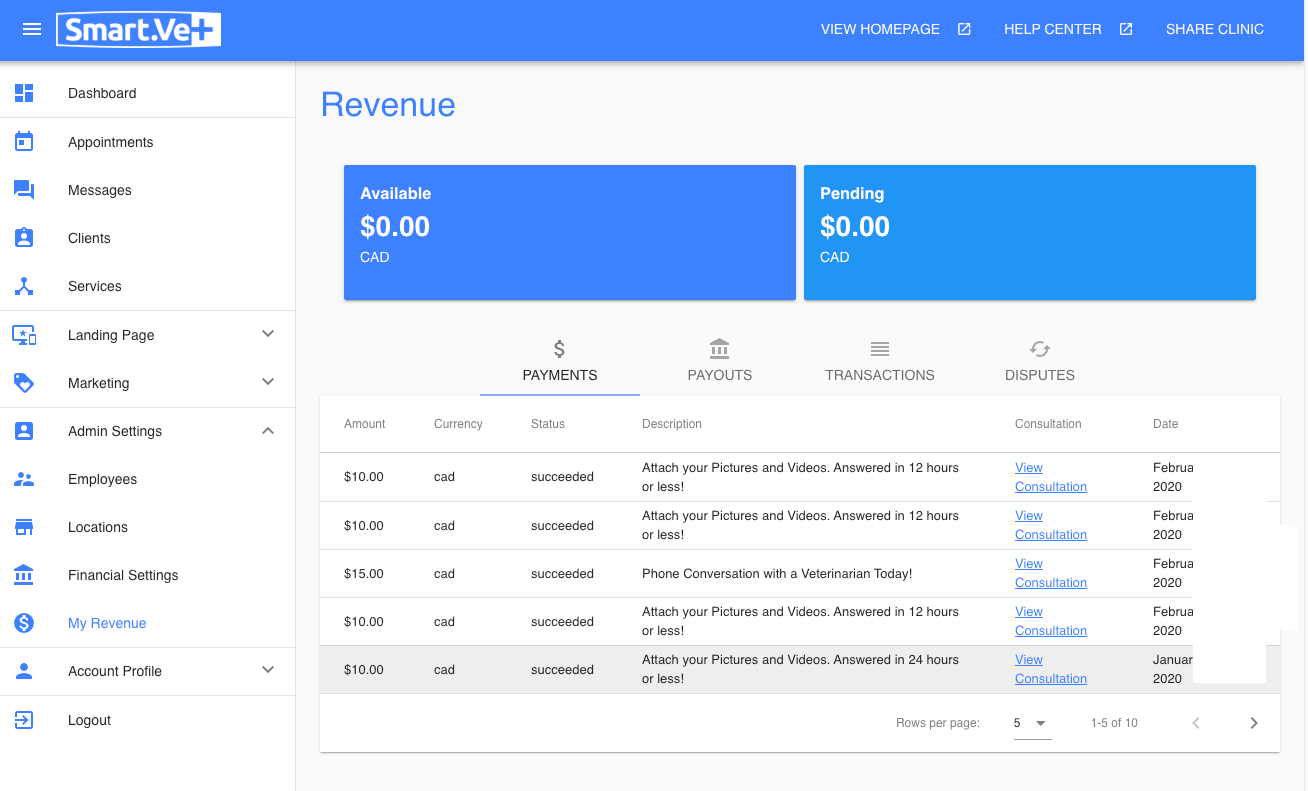 eCommerce
Our built-in ecommerce engine allows you to charge for your consultations. If you are charging consultations, the pet owner is prompted to enter their credit card information into the system via the scheduling sequence. After the consultation is completed, the money is automatically charged to the bank account you've setup The system generates receipts for you and the pet owners automatically. You don't have to charge for consultations, and if you're not, the pet owners are not prompted for payment during the scheduling sequence
Landing Page Design
As our platform plugs directly into your clinic's website, we've created an easy-to-use landing page creator / updater. You can keep your pet owners updated with all virtual care capabilities that your clinic offers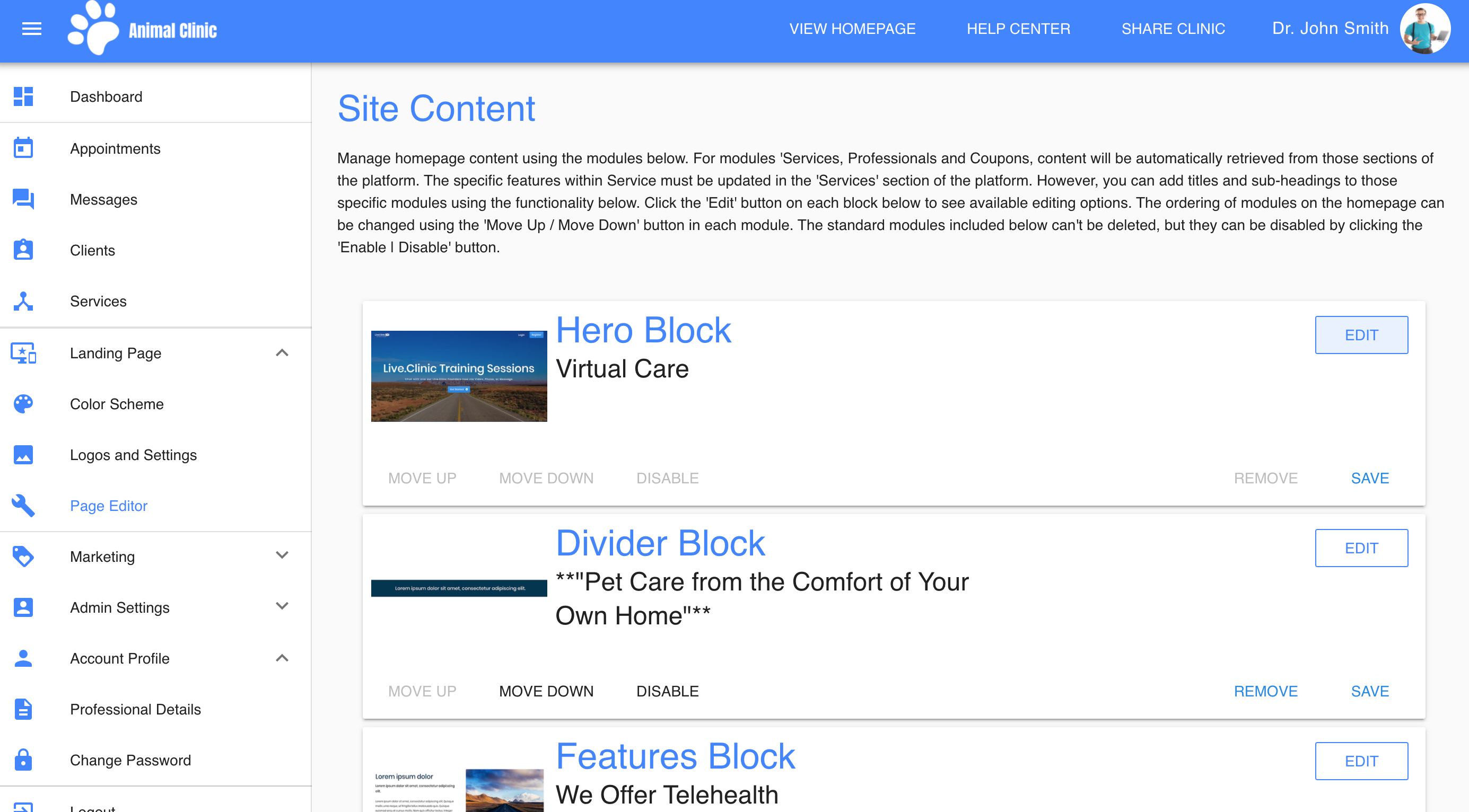 ---
We've Joined Forces with Merck Animal Health and Royal Canin.
50% Off – First Two Months
Launch your own telehealth platform that plugs directly into your existing website, or use the platform as your clinic's main website. We assist with setup (which can be same day) and provide training (it's extremely easy to use).  This is the same technology that we use for our global network.

Promotional Pricing from Royal Canin + Merck Animal Health
$50
Per Month, Per Clinic, Unlimited Consultations
Get Started
No Setup Costs | Live within 24 Hours
View Our Featured Implementations
CLICK HERE
---
Implementation Example
Check out our Featured Implementations for a list of amazing telehealth implementations of our technology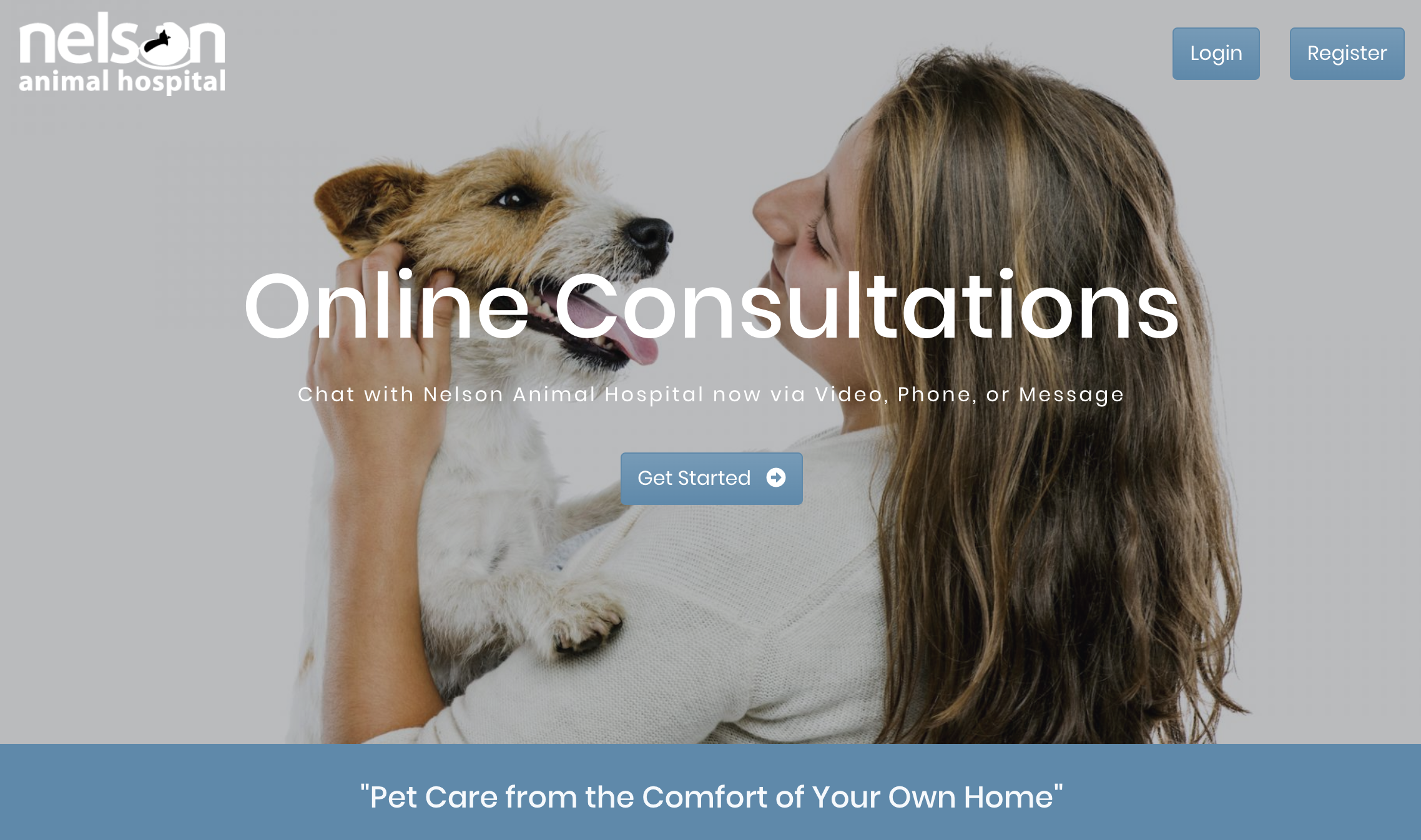 Nelson Animal Hospital
Nelson Animal Hospital implemented Smart.Vet within their practice. This now allows Nelson to perform online consultations with their clients. The implementation was easy, Nelson setup a Smart.Vet platform and created a link on their main website called 'Online Consultations' that links pet owners to Nelson's online consultation platform. The online platform has the same branding as Nelson's main website, ensuring a branded experience.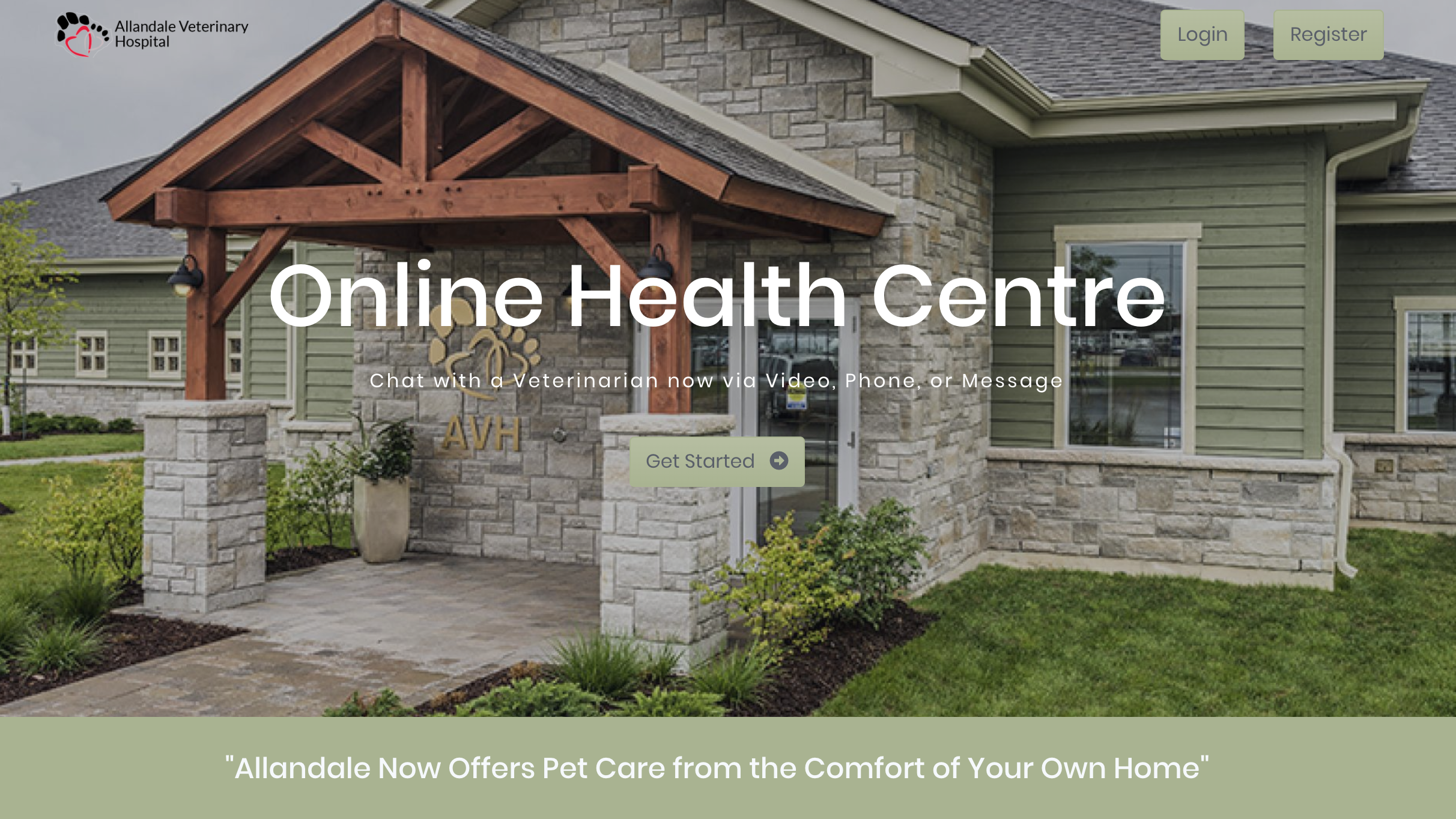 Allandale Veterinary Practice
Allandale Veterinary Practice is a Barrie based practice. The staff and patient care is amongst the best in Ontario! Check out how Allandale enabled their clinic with telehealth capabilities below. Allandale simply created a new link on their clinic website that says 'Telemedicine' which links to their new telehealth platform.
URL: Allandale's Clinic Website
---
Platform Feature Deep Dive
Branded Telehealth Platform with Landing Page
No app or downloads needed. Our platform is web-based and works great on any device (PC, Laptop, Phone, Tablet). Our platform comes fully branded with your logo, colour scheme, and pictures to seamlessly integrate with your existing website.  On your home page, you simply create a new link called 'Telehealth' which sends your customers to your new Telehealth platform.
Online Scheduling
Our user friendly scheduling feature is for both veterinarians and pet owners.  As a vet, you can set the hours that your available for online consultations.  Your clients are able to see your availability, and book a time that works.  Don't worry, email notifications are immediately sent upon booking.
Outbound Scheduling
Our outbound scheduling feature allows Veterinarians, RVTs, and Practice Managers to schedule telehealth appointments with pet-owners. The pet owner receives an email with the appointment details, and is required to login to the platform, complete intake form questions and pay for the consultation prior to joining the consultation
Telehealth Communication System (Video, Phone, and Message)
The platform contains three different communication methods for your pet owners, Message, Phone, and Video.  All consultations occur in your digital consultation room.   You have the option to record consultations as well.
Recorded Consultations
Our platform has the ability to record phone and video consultations. This provides major benefit for both the pet owner and Veterinarian. Pet owners can always log back in to our Online Health centre and view past consultations. Veterinarians can easily download online consultation recordings and easily attach them into PIM software (Cornerstone, Avimark, etc).
eCommerce
Whether you are answering a message, or performing a video consultation, you can charge for these.  You can set your own pricing, and the money is automatically deposited into your bank account upon completion of a consultation.   The system automatically generates receipts for clients and necessary tax documentation.
Patient Record Management
Our platform does a great job at storing all client records, and their consultation history.   At any time, you can easily look up a client and review their consultation history.   Also, for returning clients, their consultation history is always visible to you in the consultation room!
Employee Management
Do you have multiple vets working at your clinic? No problem!  You can easily add / manage team members within the platform, allowing them to also perform consultations and answer messages.
Practice Management
Our platform is great for Practice Managers and Hospital Directors. Through our new administrative features, a Practice Manager can now view the calendar of all Veterinarians and RVTs within the Online Health Centre, and add / remove availability for the staff as required.
Compliance
If you have a VCPR with a patient, you can upload prescriptions within the digital consultation room. From a security perspective, our system was designed in AWS HIPPA compliant infrastructure with all data hosted in Montreal, we include end-to-end encryption and future cryptography
Marketing
Our built-in social sharing tool easily allows your clinic to create a professional facebook ad that can be directly shared onto your clinic's Facebook and Twitter page.
Coupons Creation
You can easily create 'one-time' use coupons within the system. This way, your pet owners don't have to pay for a consultation if you extend them a coupon code to use at time of booking
---